'Plastic Awareness Education' at Cochran Mill Summer Camp
Recently Olivia and Carter were invited to teach their "Plastic Awareness Program" to the students attending the Cochran Mill Nature Center's Environmental Camp.  Olivia and Carter love what they do and they jump at every opportunity to meet with kids all over the country to help them understand what 'Plastic Pollution' is and how they all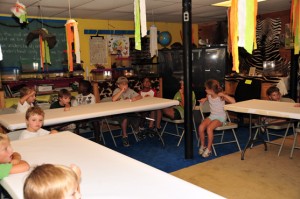 can help to be the solution.
The kind folks at the Cochran Mill Nature Center recently reached out to Carter and Olivia asking if they could come and speak with the students attending their environmental program.  Camp Director Vicky Smith (a.k.a. The Bat Lady) plans all the summer camp curriculum at the center along with the rest of the amazing staff.  One of the areas they were covering was all about pollution and how if affects our environment.  Vicky had heard about our "Plastic Awareness Week" program and asked if we could come out and conduct an abbreviated version for their students.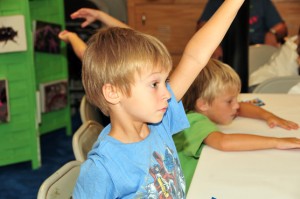 Olivia and Carter love working with students their own age and were all too happy to oblige.  They started the program by introducing their organization to the kids and by making sure they all knew that each one of them was capable of making a difference… even at their age.  They talked about how they stated OMG, how they collected Animal Rescue Supplies during the Gulf oil spill and made the long trip to the New Orleans to help out.  They talked about learning that although their efforts to try and save the animals affected by the oil spill was probably a nice gesture, in the big picture, it was not enough.  They explained to the students that bringing rescue supplies and helping to clean up the oiled animals was fixing only part of the problem.  After the animals were healthy again, we were just putting them back in a polluted ocean.  Once they returned from the Gulf, Olivia and Carter set out to find out what was making our oceans so polluted.  What they found was that Plastic Pollution was the single largest problem facing our oceans, and that it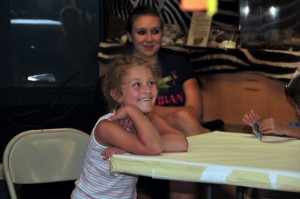 was the responsibility of each and everyone of us to ensure we stopped producing so much plastic.
Then, on Carter's 10th birthday, we launched our "Say No To Plastic Bags" Coalition and shortly after that, we launched our Plastic Awareness Week program so we could reach out to schools and help everyone understand how important it is to change our addition to plastic.  The kids attending the camp loved to see the passion in Olivia and Carter's eyes and you could just see the wheels spinning as they too began to think of what they could do to help clean up the situation.
Next we passed out all the plastic trash we brought along and helped the students learn how to identify the different types of plastic and to better understand what 'can' and 'can-not' be recycled.  The kids were so surprised to learn that not all items with the recycle symbol could be recycled, and that not all plastic items have the recycle symbol on them.  Olivia and Carter helped the kids make up a few easy to remember rhymes so they will be able to remember which types of plastic are good, and which ones they should avoid.
Next we showed the kids several pictures of what happens to various animals when our plastic trash ends up in their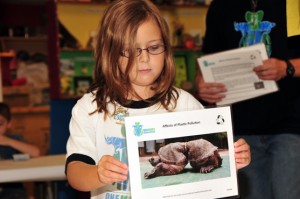 environment.  The kids were shocked by some of the things that happen when an animal comes across plastic trash and it was obvious that none of them had ever even heard about what our trash is doing to so many species.
The kids were all so intently listening to Carter and Olivia and each one of them had suggestions of what could be done to ensure this doesn't continue to happen.  We heard many of the students say that they would be telling their parents, and even their school teachers about what our plastic pollution is doing to the environment and how they wanted to help be the solution to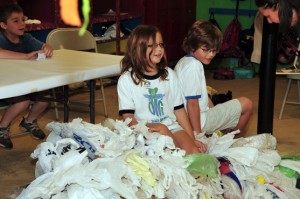 the problem.
Next we brought in the OMG Bag Monster and Olivia and Carter had fun telling the kids not to listen to what the Bag monster was trying to tell them.  Every-time the Bag Monster attempted to seduce the kids into using more plastic bags, Carter and Olivia were right there to tell the kids why they should not listen to him any more.  Eventually, they had enough of the Bag Monsters trash talk and they collectively proceeded to defeat him, declaring their victory over the Bag Monster in their household and inviting each of the students to do the same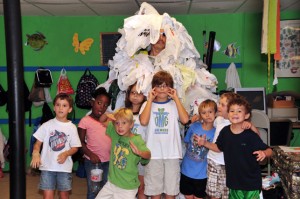 when they get back home.
We wish to thank the entire staff at Cochran Mill Nature Center for inviting OMG to come and work with these amazing kids and we also want to thank each of the campers for being such great students and for allowing us to share what we have learned.
We encourage everyone to look around our website for more tips on how you too can make a difference in your homes, your schools, and in your community.  If anyone is interested in having Olivia and Carter come and speak to your group, school, church or organization, please send us an email, we would love to come and share what we have learned.
Best regards from the entire OMG Team 😉
Testimonial:
Recycle, Recycle, Recycle!!! We hear it every day but what do all those numbers in the little triangles really mean? OMG came to Cochran Mill Nature Center (CMNC) and presented an exciting and fun-filled presentation that helped my students figure it all out. The hands on aspect of the program really involved the children. Each student reached into a larger contain and pulled out a plastic item and then Carter, Olivia and Jim helped the children understand that only certain plastics are easily recyclable. They helped the children learn which numbers were good plastics meaning the plastics could be easily and cost effectively recycled into new products. And taught them about safe plastics. Carter and Olivia taught the children this saying: "Recycle numbers one through seven, Stay away from Three, Six, and Seven!"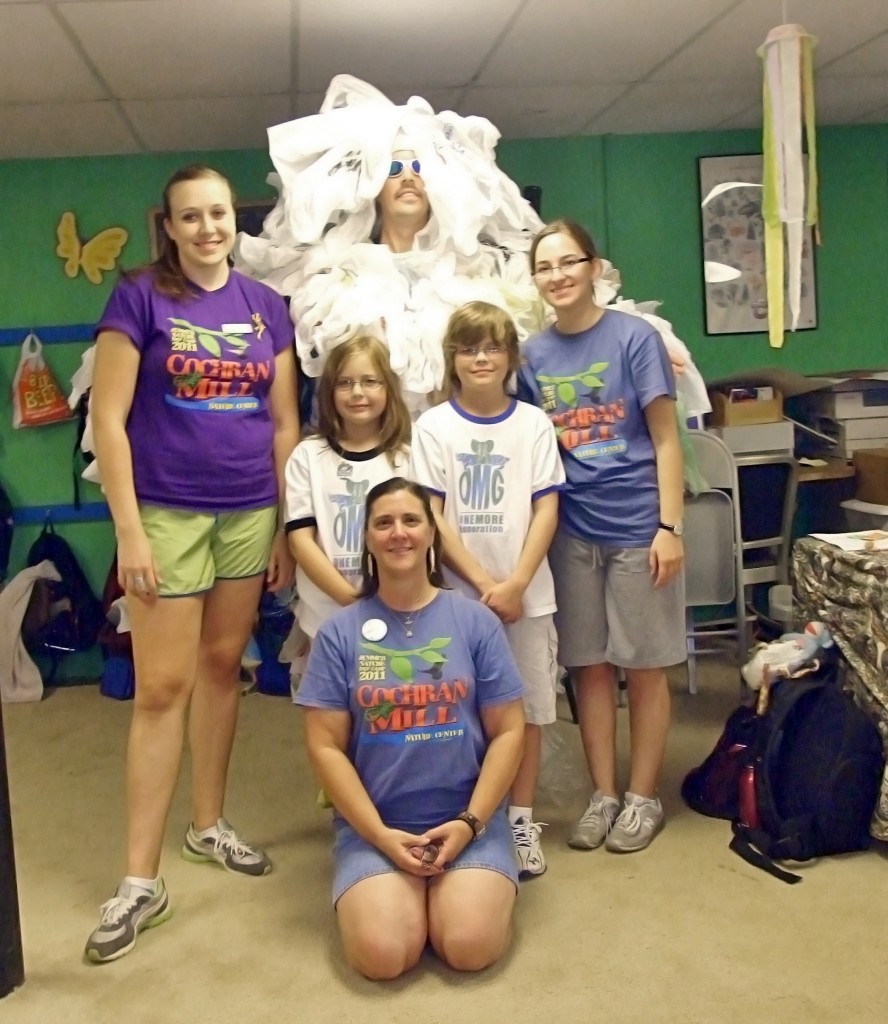 We had been studying invertebrates of the ocean and the animals that eat them and OMG tied their program into our subject beautiful when they explained to the children how many plastic bags we use in the US each year and then how many of them end up in our streams, rivers and eventually our ocean where they are mistakenly eaten by aquatic animals such as sea turtles and whales that think the floating bags are sea jellies. They also showed photos of animals in trouble because of human carelessness with plastics which really allowed the students to see the consequences of many decisions we humans make. And the final and impressive moments of the program was the appearance of the BAG MONSTER—-representing the average number of plastic bags each person uses per year–500!!!! Carter and Olivia led the students in a resounding chorus of "NOs" to the BAG MONSTER as he encouraged plastic bag use and Carter and Olivia then defeated the BAG MONSTER and sat on him.
The program was fun and educational and kept my students engaged and involved. Carter and Olivia allow students to see that they too can influence their parents and others and help protect our environment and its valuable resources.
Vicky Beckham Smith
A-Z ANIMALS
batlady1963@yahoo.com
www.azanimals.shutterfly.com
www.eeingeorgia.org