Huddleston Elementary 'After School Program' Talks Trash
Recently, Carter and Olivia brought their "Plastic Awareness Week" program to the Huddleston Elementary School in Peachtree City GA.  The director of their After-School program Carolyn Davis invited OMG to come out and host their environmental program to their After-School students.  The "Plastic Awareness Week" program is designed to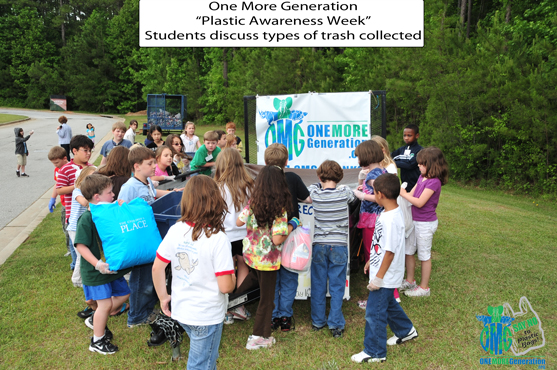 educate students on the harms of plastic pollution to our environment and to the many species who are daily impacted by the overwhelming amounts of plastic trash we produce.  We have divided our week-long event into five 1-hour segments.  The students are asked to bring in all their plastic trash from home each day during the week which is collected in a special trailer that we set up in front of the school.  The trailer is a great vehicle for the students and the entire school to see how quickly our plastic trash accumulates.
DAY-1
On day one, we introduce Carter and Olivia and show their OMG video which is always a big hit.  We make sure the kids understand that Carter and Olivia are the same age as they are and that if they can do all this to make a difference, each one of them have the same opportunity.  Then the kids are asked to express their own thoughts on why it is important to care about the environment. We take this time to lay the groundwork for everything they will be learning. We discuss what Plastic Pollution is and give them the opportunity to reflect on some of the types of plastic trash they may be producing themselves on a daily basis.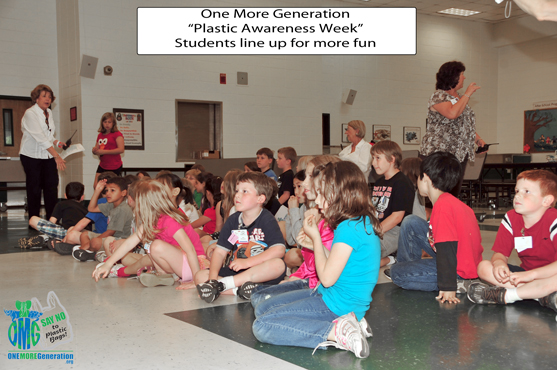 This is also when we hand out the cool stainless steel water bottles which we include for every child and teacher as part of our program.  We tell the students that by using these new bottles everyday as opposed to using or buying bottled water, each one of them will be helping to keep an estimated 180-water bottles (per year) from entering our landfills or ending up in our oceans.  Next we engage participation from students via reading along from select age appropriate environmental books which we also provide each class as part of the program.  Todays topic is the Adventures of a Plastic Bottle. The books are fun and a great way to get kids excited about the weeks activities.  We wrap up day one by handing out letters to them which each child will bring home to their parents.  The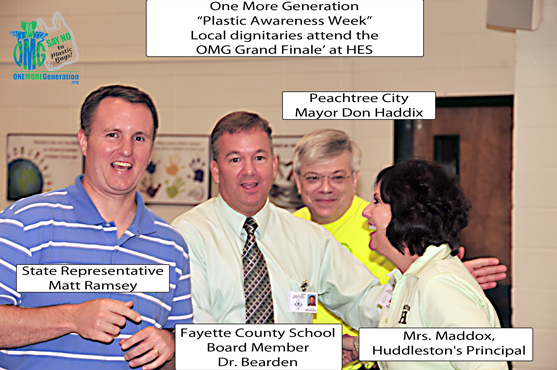 letter explains the program in more detail and also invites the parents to participate on the final day as the kids will be creating something special for their families, and the entire community to see.  The school also sends out invitations to all the local officials, council members, press and media and even to the Mayor's office, inviting them to also be part of the festivities on the final day.
Day-2
For day two, we share the "Affects of Plastic Pollution" pictures we prepared with students. We ask students what they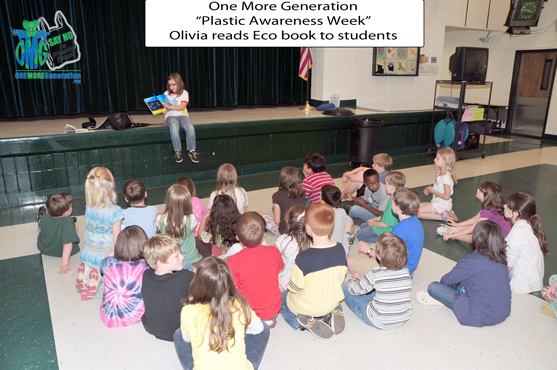 see in each of the ten pictures. After students tell what they think they see, we read the script on the back of each card to clarify the picture for them. Then we ask students to suggest what could be done to prevent this plastic pollution.  These pictures are a great way for the kids to see what plastic pollution really does to animals and to our environment everyday.
Next we hand each child a cloth reusable shopping bag and all the teachers get one as well.  We explain to them about the sheer numbers of plastic bags that are used every day in America and show them how simple it is to just "Say No To Plastic Bags".  The children and the teachers are then given the opportunity to decorate their shopping bags.  The students are asked to use the bags as an opportunity to express their feelings towards what they have learned so far and to send a message to everyone who sees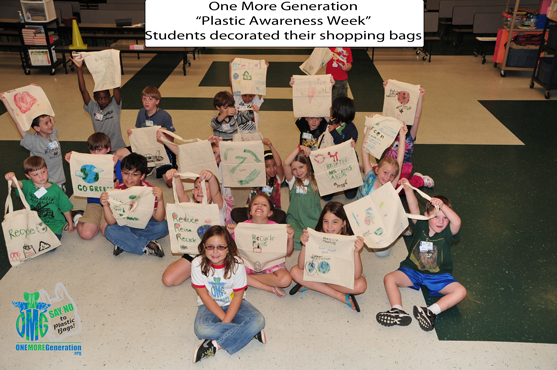 them using the bags as they go shopping with their families in the future.
Next we again engage participation from students via reading along from select age appropriate environmental books.  Todays topic is all about plastic bags.  The story is a great way to get kids excited about decorating their bags and helps create a sense pride that they will experience every-time they use the bags or when they get their parents to use the bags instead of plastic bags.
Day-3
For day three, we take the kids to the trailer to see how much plastic trash has been collected.  We allow each one to choose one piece of trash to take back to the room.  Next we take time explaining the differences between the various recycle numbers and help them understand what can and can not be recycled.  Each child is given a handout for them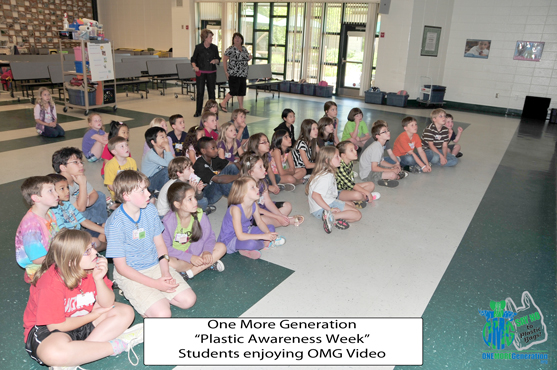 to take home to share with their parents so they can help their families better identify the types of plastics and which ones are considered safe, etc.
We then have the class work together to come up with a cool poem which will help them better remember which recycle numbers are good and which ones to avoid.  This is a great opportunity to allow the students to express their creativity while devising a way that will help them remember what they have learned.  I always love hearing the creative poems they come up with.
Day-4
On the fourth day we start by reviewing the poem the kids wrote on day 3 and then we all head out to the school grounds and in search of plastic trash.  It doesn't matter how neat and tidy the school grounds look at first glance,
there is always plastic trash to be found.  Taking the kids out on such an excursion is a great way for them to view their school grounds with open eyes.  The kids are always amazed at how much stuff they find and how much of the trash is plastic.
Once we return to the classroom, we have the students discuss how it made them feel to find so much plastic trash on their school grounds.  We give them the opportunity to express what they feel could be done to help keep their school plastic trash free.  After that we ask the students to collectively or individually write a pledge that they would like to share with the rest of the school.  The pledge should be something that the students are able to view each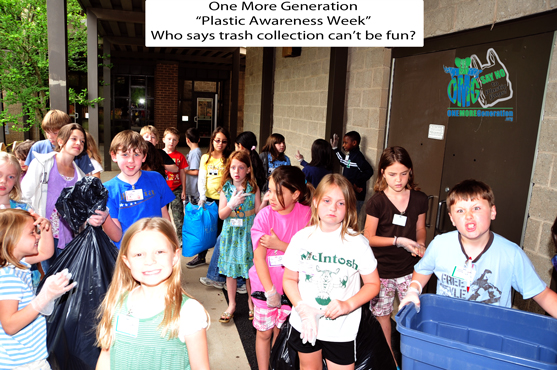 day as they return to school and something that should be shared with the entire school.  You will be amazed to see how much impact such a pledge can have on the entire school.
Finally, we have the students recite their recycle numbers poem again and then have them start to discuss what their art project is going to be on the final day as they attempt to send a message to their families and their community about what we as a country are doing to our environment and to all the animals because of our addition to plastic.
Day-5
On this the final day, we gather the students together to discuss everything they have learned.  We encourage them to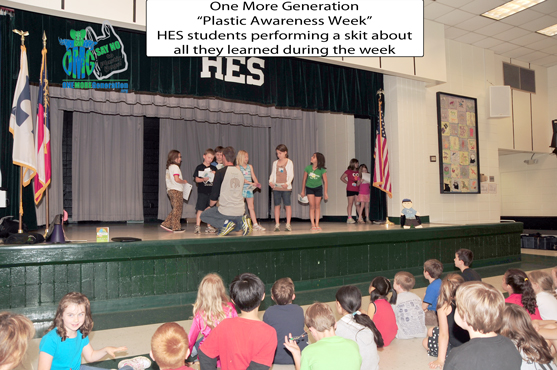 express how the information has affected them and to explain what changes they plan to incorporate in their lives to help be the solution to the problem.  We also have the students come up with a list of items they would like the school to consider doing to also reduce their plastic trash output.
Next we allow a few of the students to come up on stage with us to act out a brief skit about everything they learned.  This is where we also finally introduce the the students to the OMG Bag Monster.  The Bag Monster is always a great hit with the students and a fantastic way to get the message across about the sheer number of plastic bags that the average consumer uses each year.  The kids always love being part of the skit and they especially like when they have the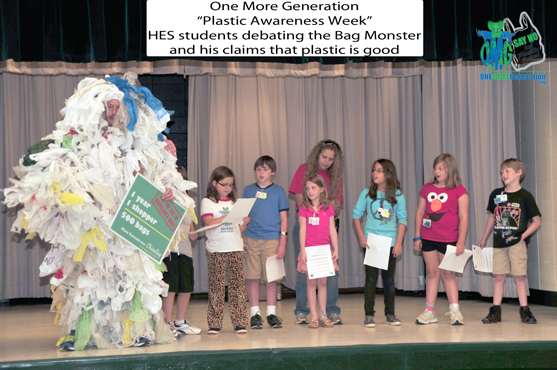 opportunity to actually defeat the Bag Monster in their household once and for all.
We typically get a great turnout from the local media and even from local dignitaries so you want to make sure you include them in the all the fun that day.  Next, the Bag Monster gathers all the students and they all head outside to where the trailer is which is now full of plastic trash.  The kids have been planning for this all week so now is their opportunity to get creative and to start building their special art project.  The students in this particular group decided that they wanted their community to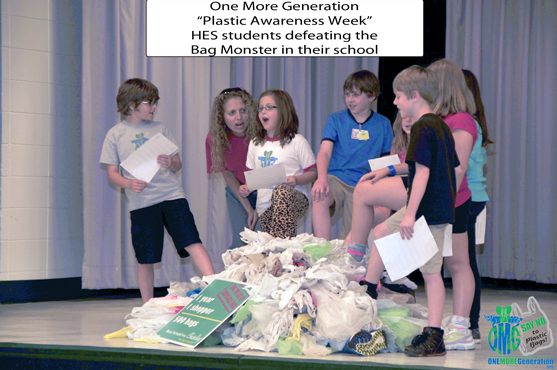 see how much plastic trash we are producing each year in America so they created a giant map of the United States and filled it with all the trash they collected.  Several of the students decided to jump in among all the trash to demonstrate that our children are essentially drowning in all our plastic trash.
I think you will agree, the message these kids created is powerful and the best part is that they themselves felt empowered enough from all they had learned to stand up to their families, their school, and even to their entire community and shout out that we
all need to get involved and start making a difference… for their sake.
We wish to thank the director of the Huddleston Elementary After-School program Carolyn Davis and her entire staff for being so supportive of our program and for allowing Olivia and Carter to come and share their knowledge with all the students.  We also wish to thank all the students, who were so supportive and so accommodating to Carter and Olivia throughout the entire week.  The students even took time out of their busy schedule to create something special for Carter and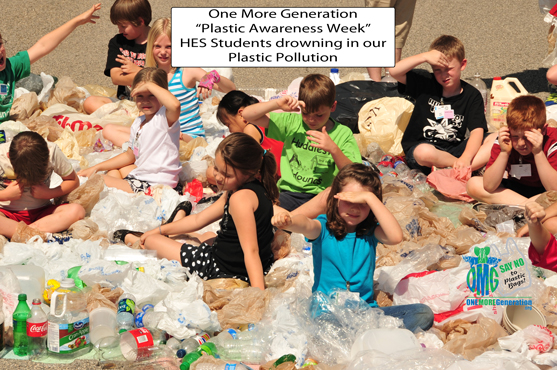 Olivia which they presented to them as we were getting ready to leave.  The students created little Super Hero figures for each of them which the kids treasure more than anything.  The Super Heroes have been hanging proudly in their room ever since.  Thank you again for allowing us into your hearts and minds.
Best regards from the entire OMG Team 😉
TESTIMONIAL:
My name is Jody Laumann, Site Coordinator for Huddleston ASP, in Peachtree City, Georgia. One More Generation came to visit our After School Program in April-May 2011. They were great. The students, as well as the adults, had a great time and learned a lot of valuable information about recycling.
Mr. Ries, Carter, and Olivia did an amazing job of informing the students of the importance or recycling. They made the classes fun for the students. We viewed a slide show, read recycling books, and also created a short skit on the stage! All this together reinforced to our students, the importance of recycling. One More Generation supplied stainless steel water bottles and reusable shopping bags to all the students and staff.
This school year (2011-12) our students are carrying their water bottles to school every day, and I also see some of the shopping bags being used to help carry library books and school books to and from school!
I can't say enough about this wonderful organization and their program. Very professional, very enthusiastic about their mission, and just a wonderful family. Thank you so much to One More Generation and to the Ries family for helping to SAVE OUR WORLD!!
Sincerely,
Jody Laumann
Huddleston After School Program Site Coordinator
200 McIntosh Trail
Peachtree City, GA 30269
770-487-9084
.
We placed more photos on our FaceBook Page.