Plastic Awareness Week Program at Riverside Retreat
Olivia and Carter were recently invited to travel down to south Florida and teach their Plastic Awareness Week program to the students attending the Riverside Retreat VBS Summer Camp.  The director and staff at Riverside Retreat were truly a pleasure to deal with and it was immediately obvious that they sincerely cared for all their campers.  The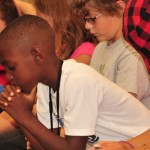 program is run by Martha Pierce who is the Director of the retreat and heads up the VBS Camp for the CHILDREN'S WEEK (for those finishing 2nd-4th grades), JR HIGH WEEK (for those finishing 5th-7th grades) and SR HIGH WEEK (for those finishing 8th-12th grades) as part of The Florida United Methodist Camps and Retreat Ministries.
The group that we were teaching consisted of elementary aged students who we all very eager to learn about what our two young founders had to offer.  The "Plastic Awareness Week" program consists of a week long defined set of curriculum which focuses on educating the students about plastic pollution, recycling, and finding alternatives that every family can adopt to make an immediate impact on our dependency to plastic.
Purpose: The purpose is to provide factual information about the types of plastic pollution we create here in America and to suggest simple changes each one of us can incorporate into our daily lives which will have an immediate impact on our environment.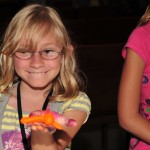 Program Objectives:
• To provide environmental education which is interdisciplinary; reading, writing, science and social studies
• To present information in a balanced and unbiased manner
• To provide data that is relevant to the students which has a direct impact on their lives
• To relate learning about environmental topics to real-world issues
• To make use of the outdoors as a learning environment
• To inspire critical thinking and decision making
• To motivate students and their parents to take responsible action
• To aid the school in developing students to become lifelong learners
Outcomes:
• Raising awareness and sensitivity to the environment and environmental challenges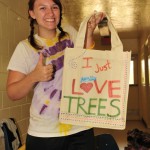 • Changing attitudes towards the environment and motivating students to seek improvement opportunities that will affect environmental quality
• Fostering the skill-set which will help students identify and resolve environmental challenges
• Encouraging participation in activities that lead to the resolution of local and global environmental challenges
• Fostering environmental literacy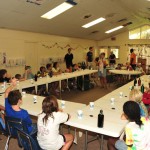 The Florida United Methodist Camps and Retreat Ministries seek to provide:
* Welcoming natural places set apart for sacred retreat and community.
* Nurturing experiences in Christian faith, discipleship and leadership.
* A witness to the servant life of hospitality, earth care, justice and love.
The camp offered the students an opportunity to bond with one-another while experiencing thought provoking messages delivered by caring counselors.  Olivia and Carter's message was designed to educate and to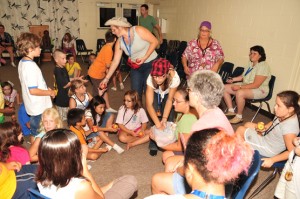 help remind the campers that we are All stewards of God's creations and that it truly is our responsibility to care for all his creations.
Day-1
For the first day of our program, we set out to establish have the students express their own thoughts on why it is important to care about the environment and for all of the creatures of the world. We asked them to tell us in their own words "What is Plastic Pollution?" And Why Should We Be Concerned About It?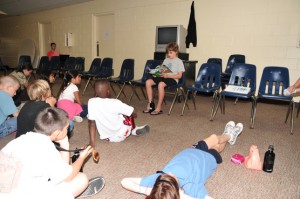 Carter and Olivia took turns reading-aloud about the Adventures of a Plastic Bottle: A Story About Recycling.
We then made sure all the students received their stainless steel water bottles as a better alternative to water in plastic bottles, and as a good way to reduce plastic use.
Day-2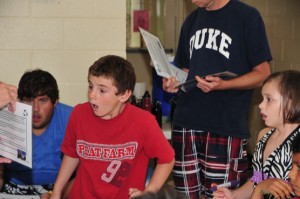 For the second days lesson we shared with the students pictures we prepared that demonstrated the "Affects of PlasticPollution". We asked students to tell us what they see in each of the pictures, then we clarify the picture for them and asked students to suggest what could be done to prevent this from happening again.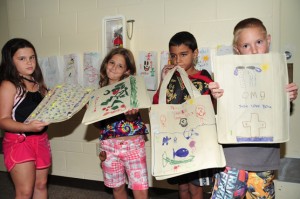 We advised them that a good way to prevent some of the plastic pollution is to use re-usable bags when shopping, instead of the plastic bags we get from many stores. We then passed out the re-usable shopping bags we had provided for each student and had each of then decorate their bags in a way that gets the message across "Reduce, Reuse, Recycle!".
Day-3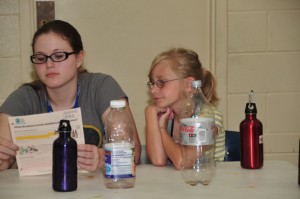 For the third days lesson we discussed the 3-arrow recycle symbol. We explained that the numbers inside the symbol represent different types of plastic. Some numbers represent items that can safely be recycled and some numbers represent items that are potentially harmful to humans. We then passed our plastic trash to the students to have them try to find the recycle symbols on the selected pieces of trash.
Next we reviewed and handed out our fact sheet "What Do Those Recycle Numbers Mean Anyway?" We then reviewed the details for each recycle number with the students so they could better identify the types of plastic on their own. Next we helped them write a class poem to help students remember the significance of each number: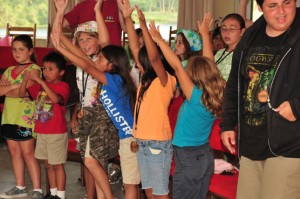 .




Chant:
Recycle numbers one through seven,


Stay away from three, six, seven!
.
Day-4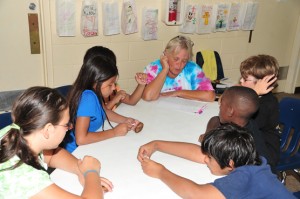 For the fourth day's lesson, we focused on discussing what students had learned about plastic and plastic trash duringthe week. We asked them to provide us with simple solutions they could implement at home to help reduce their plastic pollution output and asked the students to write a class pledge to help the environment, incorporating ideas from what they learned.
The students then broke out into small groups which collectively decided on a few pledges they wanted to make in an effort to show their commitment to wanting to make a difference in their homes and their communities. I think you will agree, these letters say it all: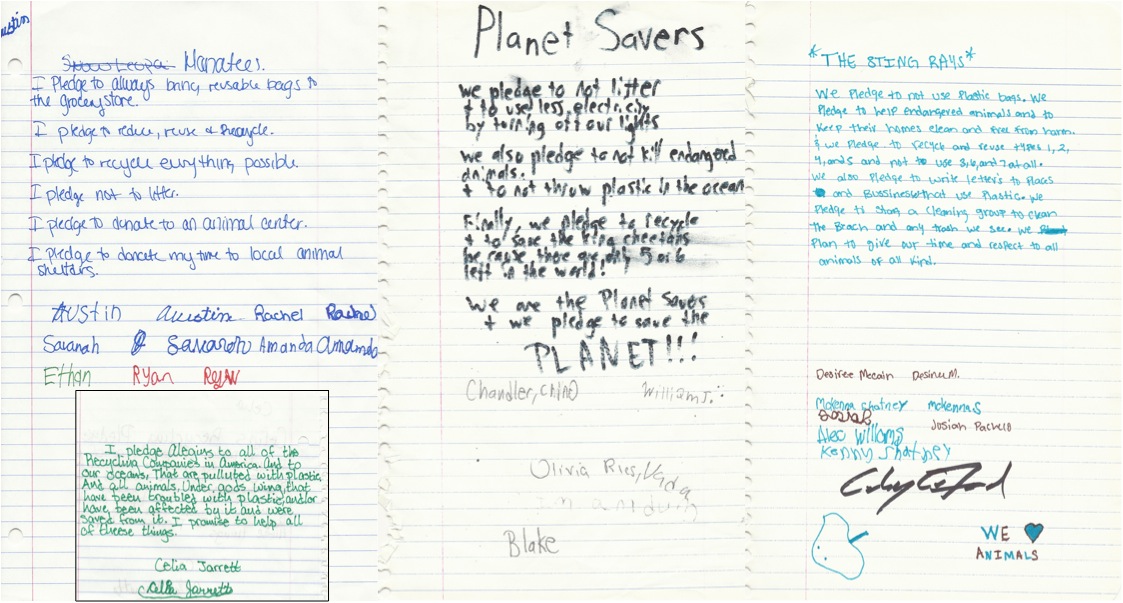 The best part of conducting these educational programs to students is hearing and reading their comments as we round off the week.  Their enthusiasm and amazing ideas prove that they truly are our future, and if we can keep teaching them how to be the solution to some of our environmental problems, we truly have a brighter future ahead of us.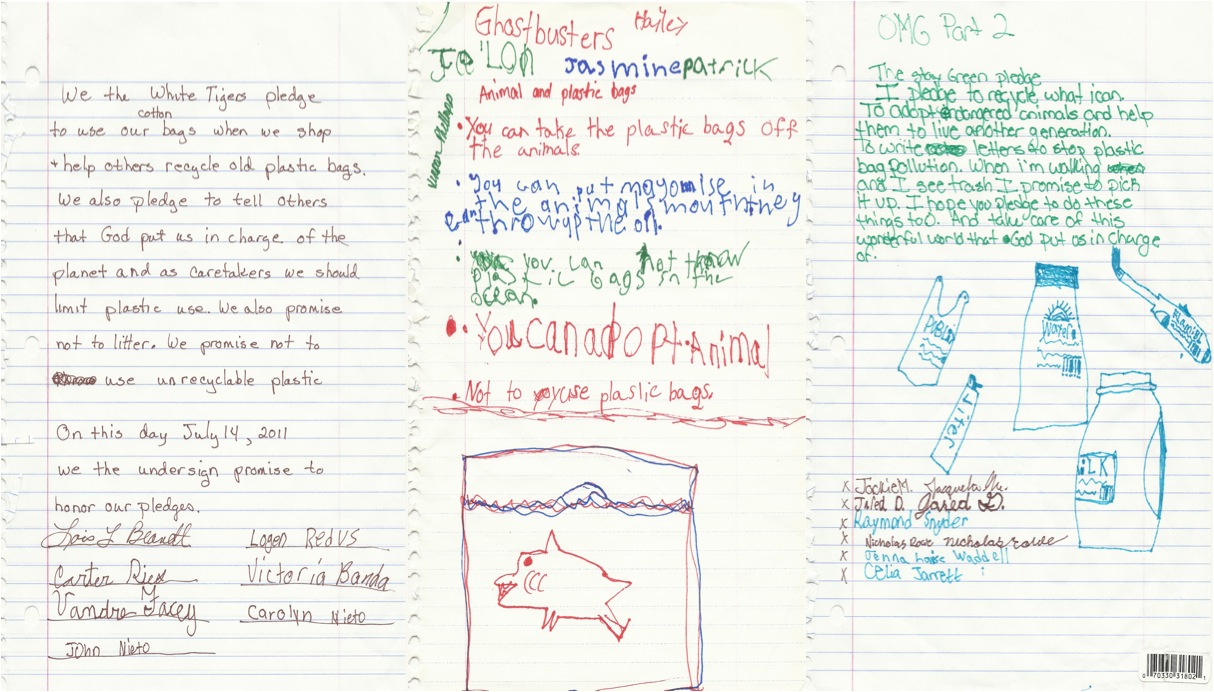 Day-5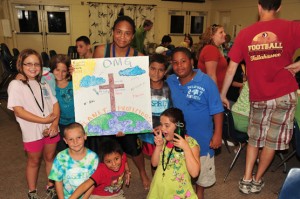 On our last day of the program, we allowed the students to continue with their creativity by expressing their thoughts and convictions through art.  This is truly where you get to see that they sincerely understood everything we presented during the week.  We also use this time to introduce the students to the dreaded Bag Monster and allow them the opportunity to finally show that they too can defeat him in their household as well.
One of the most gratifying events of the week for us was the fact that virtually every student who attended the camp, as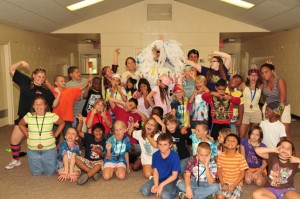 well as all the staff, took time to personally write a note to Olivia and Carter thanking them for coming, for teaching the class, and for making a difference.  Many of the students were obviously inspired by what they witnessed and told us how glad they were to learn that "Anybody Can Make A Difference".  Seeing what Carter and Olivia have accomplished inspired many to want to do more with their lives and that is what makes this all worthwhile for me personally.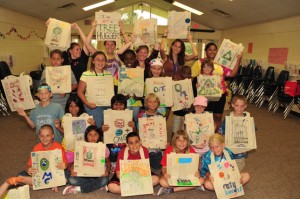 We have conducted the program in various schools already and are in the process of attempting to launch our program to schools nationwide. This is just another part of reaching out to the communities to effect change which Carter and Olivia have developed this year alone.  If your interested in having OMG host such an event for your school or organization, please give us a call or send us an email.  We will gladly workout all the details with you.
We hope you enjoyed reading about the event and that this might just inspire you to try and reduce your plastic output in your home and community as well.
We have placed all the pictures from the week on our FaceBook page.  We hope you visit our albums and enjoy all the pictures.
From all of us at OMG, thanks for caring 😉
Testimonial:
One More Generation worked with the children and counselors of our camp for one week and had a great impact on everyone. While having fun, we learned many new things about plastic recycling. The hand outs were sent home with each family; and I've already had responses from several parents. Even during later weeks, we handed out the flyer about recycle numbers and had a lot of interest from Jr. High and Sr. High campers. We really appreciate all the time and energy the entire family gave to Riverside Retreat and recommend them to anyone interested in transforming their attitude toward the environment and what we can do to help it!
Martha E. Pierce
Director
Riverside Retreat
7305 CR 78
LaBelle, FL 33935
863-675-0334