International Conference and Festival for Youth-Led Climate Action
I am very pleased to report that I recently presented at the POP (Protect Our Planet) International Conference and Festival on Climate Change which was held in Mexico during August 19-20, 2019.  Here is more about the event:
We are very privileged to collaborate in this festival with several partners in Mexico as well as other parts of the world. The festival was held at Nuevo Vallarta, Nayarit, Mexico and I got to participate in this major event through which the youth of the world were able to take several initiatives and steps to implement the Paris Agreement on Climate Change and the 17 Sustainable Development Goals.  The conference and festival itself was presented by the POP Movement in partnership with Instituto Politécnico Nacional (IPN), Centro Interdisciplinario de Investigaciones y Estudios sobre Medio Ambiente y Desarrollo (CIIEMAD), and Programa Delfin.  Here is more about POP and my experience:
Remarkable dreams, ideas, and innovations, conceived and propelled by youth were the debutant stars of the annual POP Festival, 2019.
On August 19 and 20, 2019, students from universities around the world across countries like Mexico, Peru, South Africa, United States of America, Ukraine and India came together with youthful enthusiasm to participate in the International Conference and Festival for Youth-Led Climate Action, in Nayarit, México. This two-day event hosted by the POP Movement was tremendously rewarding and successful, as the international youth community showcased their wide range of sustainability initiatives that shared the vision of comprehensively addressing the growing environmental concerns.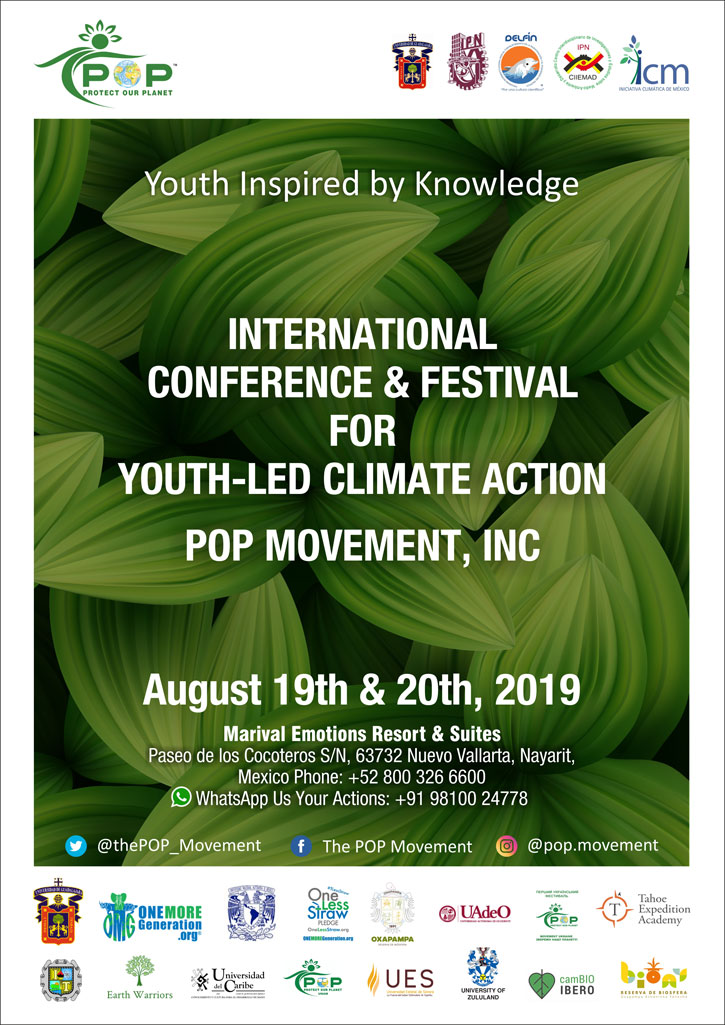 The festival commenced with the distinguished presence of Dr. Ash Pachauri, POP Senior Mentor, Dra. Norma Patricia, POP Honorary Distinguished Mentor, Fernando Santiago Gómez Martínez, Project Coordinator in the Faculty of Chemistry at UNAM, Dra. Eire Reynaga Delgado from UDG (Representing Oscar Blanco Alonso, Academic Secretary from CUCEI) and Carlos Humberto Jiménez González, General Coordinator of the Delfin Program at the Autonomous University of Nayarit. The inauguration was also graced by POP Chief Mentor, Dr. R.K. Pachauri (via Skype), who motivated the young change makers to be leaders of climate action and stated the importance of the Sustainable Development Goals, particularly SDG 17 (Partnership for the Goals) in this continuing journey.
Having around 75 participants, this two-day festival was one of a kind as it served as a platform for sharing knowledge with a sustained festive element. A myriad of exhibits, workshops, presentations and activities, made interesting by the exuberance of youthful participation, revealed the overarching truth of the boundless potential that youth can collectively wield in transforming the threatened future as they lead with action inspired by knowledge.
The Protect Our Planet Movement (PoP) inspires young people around the world to take action, mitigate and adapt to climate change.
POP builds capacities of young people around the world to support them in designing and implementing climate actions and projects to address the most relevant climatic problems that face them. Following some initial capacity building workshops, POP
supports youth to form groups/teams which then work to address the environmental issues they see most pertinent and pressing. POP mentors these projects and supports their implementation (through capacity building and guidance). Often POP also helps in
making critical connections between youth groups and businesses, donors, academic institutions etc. Finally, once projects are somewhat mature, the POP Movement organizes and invites young people to events which allow them to showcase their work,
link and network with other youth, and amplify their voices. Climate change is a pressing issue as we have a small window of opportunity to act. If we don't take action immediately, the window will close.
We have no more than a decade (a huge outer limit) to address climate change. We have a fundamental right to clean air, clean water, and health. Young people need to get up and take action as well as raise their voices. Its our future and our children's future most at stake. The most important thing that they can do is to take action and to mobilize their community in the process. They may contact us so we can find the best way to work with them. We usually don't apply a 'one size fits all approach' but rather a tailored, ground-up approach to the implementation of the POP Movement across geographies.  Here is how you too can get involved:
Send a message to our friends at POP at the following link: https://thepopmovement.org/reach-us/
My Experience:
I was invited to speak at the annual POP (Protect Our Planet) festival that was held in Puerto Vallarta Mexico. There were close to one hundred students and teachers from around the world that came together to talk about the issue of Climate Change. I have always been passionate about the issue of Global Warming and being able to work with an organization such as POP who was founded by the Nobel Prize Laureate Dr. R. K. Pachauri. He is one of the wisest men I have ever met. When he speaks about the issue, he does so with ease and is very convincing. I had the pleasure of being on a panel of other youth to talk about ways we believed Climate Change could be combatted along with later giving a presentation on the work One More Generation does.
Whenever I am around other youth that choose to make a difference, it always lifts me up and really empowers me further to continue the work I do. I get people coming up to me saying "When I was your age I was playing video games." or "I was out with my friends partying." When I hear this I tell people that it doesn't matter if you didn't start at the age I started, or if you played video games, what matters is that you realize that you have the potential to make an impact for the betterment of this planet, and you are acting on it. It's the fact that people are trying that really make the difference. In other words, the conference went extremely well, the turnout was great, I got to see my old friend Dr. Ash Pachauri and made many new contacts who I hope to visit in their home countries. I await my next trip, and I cannot wait to see what's in store.
Stay passionate my friends 😉