SODA-POP Public Awareness Rally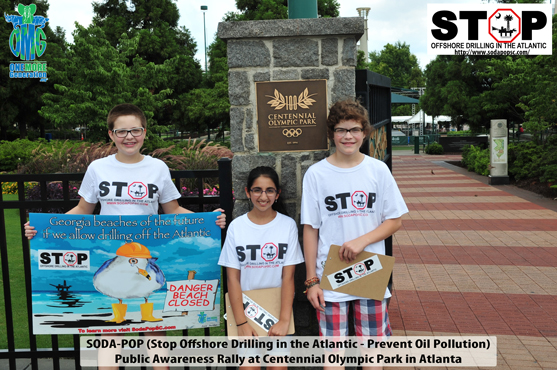 OMG recently partnered with the folks at SODA-POP (which stands for Stop Offshore Drilling in the Atlantic – Prevent Oil Pollution) in an effort to raise awareness to the fact that four southern states (VA, NC, SC and GA) have signed on to allow seismic testing and drilling for oil off our beautiful coastline. Our goal was to educate the masses and collect as many signatures as possible on a petition asking Georgia Governor Deal to take GA off of the list and to leave our coastline alone.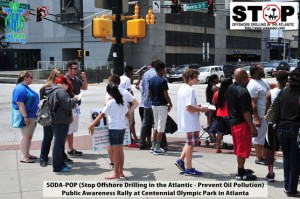 Did you know that BOEM's (Bureau of Ocean Energy Management) draft 5-year program estimates that only 550 million barrels of oil are available off the South Atlantic Coast? Why should we be drilling for oil when we know how limited the supply is off our waters. Haven't we had enough of the oil industries "Drill, Spill and Repeat" practices? (source OneHundredMiles.org)
Olivia and Carter also oppose the proposed plan because of the dire effects seismic testing has on marine animals. Did you know that BOEM who is in charge of leasing oil tracts estimates that 136,000 marine mammals will be harmed by seismic testing in the Atlantic. Seismic blasts are many times louder than firing of a howitzer and occur every ten seconds, all day and night for months. The blasting of these loud sounds actually burst the eardrums of many marine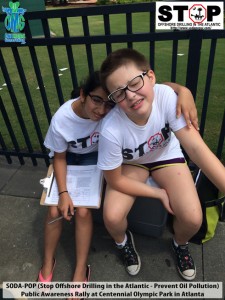 mammals.
Did you know that our GA coast is home to the North Atlantic Right Whale which is considered to be one of the most endangered marine mammals in the world with an estimated 400 remaining and our coast is the only place where right whale calves are born?  Here is a video produced by our friends at Oceana which sheds light on the issue of seismic testing: A Minute in a Life with Seismic Blasts
For these and many other reasons, all of us here at OMG oppose the plan and are begging our Governor to please listen to the voices of concerned citizens and take GA off the list.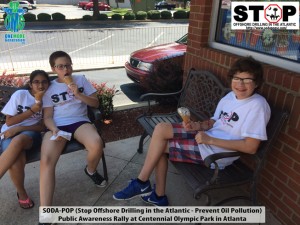 You can learn more about the issue by visiting the website of SODA-POP at http://www.sodapopsc.com/ and please also consider signing our online petition which you can access here: Online Petition to Governor Deal
You can access all our pictures from the event by visiting the following link to our OMG FaceBook page and please make sure you hit the "Like" button while you are there:
https://www.facebook.com/media/set/?set=a.1030737263616783.1073742067.108864552470730&type=3
Thank you in advance for taking the time to learn about this issue and please consider sharing this post with your friends and family as well.
From all of us here at OMG, thanks for caring 😉