'We've Got You Covered' Blanket Decorating Party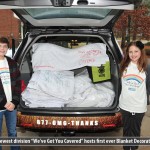 "We've got you covered" is a division of One More Generation, which I started in an effort to help people in the community. Every time we travel through downtown Atlanta I realized the increasing amount of homeless people living in the area and that bothered me. I wanted to help. So I went in search for a way. My first thought was to find blankets and clothing to donate to them. I found a dry cleaning station just outside of Atlanta and they had hundreds of blankets that were no longer wanted by the airline industry so I asked if they would consider donating them to me. I soon collected over 1,000 blankets. We have already delivered some of the blankets to the Rainbow House in Atlanta.
We also reached out to the Children's Restoration Network in Atlanta and they helped us find a way to get the blankest to centers in our community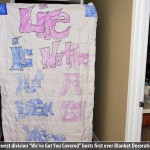 that need them such as Bloom which cares for foster children who have been through tough days in their lives. Olivia, my sister came up with the idea that rather than just giving the blankets away, we first write inspirational quotes on each blanket such as " Life is nothing but a dream, so keep living." The idea being that these messages can let people know that their life will get better. We then took that idea and decided to host 'Blanket Decorating Parties' where students and adults could get involved and help decorate the blankets before they are donated.
Today was our first such event and it was a blast. All the residents at the Bloom facility were eager to help out and as you can see in the pictures, they really rose to the occasion. Everyone got involved and they even offered to decorate even more blankets in the coming weeks to help us with our efforts. Olivia used her baking skills to bake delicious brownies and donuts for the decorating team and we even had help from a local family who follows what we do at OMG and offered to help and they even brought hot chocolate for everyone to enjoy.
We will soon be delivering these blankets (along with the foster children from Bloom) to the homeless in an effort to keep them warm and filled with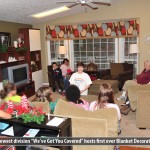 hope. The residents at Bloom are just showing that even though they have so little themselves, they can still give back to those in need.
If you are interested in helping with this project or helping us here at OMG in general please email my dad at info@onemoregeneration.org. You can also donate by clicking the donate button.  We have also posted all the pictures we took at the event on our OMG FaceBook page and we encourage you to take a look and make sure you "Like" our page while you are there.
Thank you for your support.
Carter
Life is a series of doors, some are good and some are bad. Find the key and open the right door and live your life to the fullest. 
                                                     ~Carter Ries
Here are pictures from the event on our Facebook page:
https://www.facebook.com/1moregeneration/posts/914002768623567?__tn__=-R