1,000,000 Footprints for Africa
OMG recently collaborated with our friends at Dance To Be Wild and Children 4 Conservation and collectively we launched the 1,000,000 Footprints for Africa campaign.  Here is a video that showcases the program and success so far:
1,000,000 Footprints to save Africa Campaign from Children4Conservation on Vimeo.
As a respected initiative in the fight to stop poaching on the African continent, 1,000,000 Footprints to Save Africa invites everyone to join the children of the world in a symbolic walk across Africa!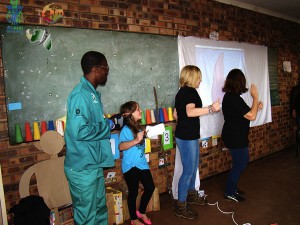 Our vision is to gather the footprints of children around the world – we hope to amass sufficient footprints to reach from Cape Town to Nairobi, embracing all countries facing the continuous onslaught against its wildlife and its people.  We are asking kids around the world to embrace our campaign and join-in on the fun.  We are seeking community organizations and schools everywhere to gather together and place their footprints on sheets or canvases and send them to us.
Recently our South African OMG board members Margie Kolver and our youth board member Amber Tilling-Richards participated in an nine school blitz along with our friends at Dance To Be Wild and  Children 4 Conservation where they presented the conservation program to over eight thousand students.  Here are some of the highlights from their visit.  The below comments are from Margie: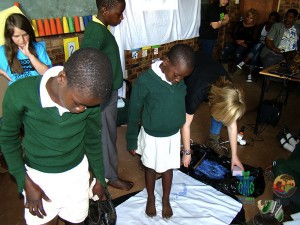 The team has just returned from the most amazing week up in Marloth Park with the 1,000,000 Footprints for Africa campaign – WE HAVE BEGUN!!!!!!!!
Jax Bath, Cheryl Cook and myself arrived at Royal Kruger Lodge on Tuesday afternoon to a warm welcome from Vic Richards, Amber, Jules and the friendly staff. As usual, their hospitality knew no bounds and spent a wonderful evening in the boma eating Jules' delicious food and chatting to the other guests at the Lodge, which included a newly-wed couple from Singapore.
An early start and a meet up with Velile Mabaso from Nkomazi FM, our anchorman and liaison, saw our campaign begin in the remotest areas in Nkomazi District, Mpumalanga = all surrounding the Kruger National Park!!.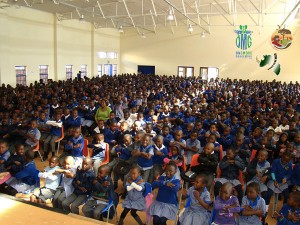 9 schools in three days – over 8000 children impacted and on board with the 1,000,000 Million Footprints!!!!!
At every school we were met by thousands of eager children ranging in age from 5 yrs to 17 yrs, Jax and Amber faced these audiences and delivered, sometines in the most difficult circumstances, the most powerful message. Both girls did a stirling job talking to and teaching these children!!!! It was a wonderful sight to see and I am so very proud of them both. Velile was a gem and helped with crowd control, translations and generally engaging the crowds
We were joined on Friday by Eugene and Vanessa Theron and their three kids (Children4Conservation) – Monique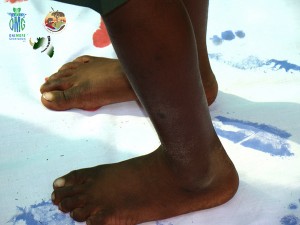 being one of the campaign's. ambassadors. Eugene took some awesome photos and video footage of the final three schools, Monique, aged 14, took to the stage with Jax and Amber and assisted with the presentations.Vanessa and Eugene have developed a fantastic website for the campaign with some amazing interactive pages. We were also joined by Chris Daniel and Bonngi's Quest – the kids LOVED Chris in his rhino suite!!! We were able to give each school a whole pile of Bongi's Quest books!!!
Sheila and Johnny joined us on Saturday when we took 18 of these children (2 from each school) into the Kruger Park and a final braai at a holiday resort – Henk van Rooyen in Marloth Park.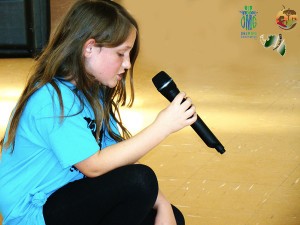 WHAT AN AMAZING TIME!!!! We have all returned exhausted but filled with an incredible sense of achievement!!!
Here are a few comments from our youth board member Amber:
We want to show the world we will not accept Rhino Poaching.
WE WANT TO PUT OUR FOOT DOWN – SAY NO TO RHINO POACHING
We visited some schools in the Kruger to tell them about the terrible things the poachers are doing to our Rhinos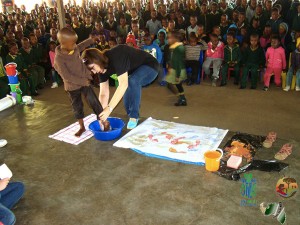 and other animals and to get them to help in collecting 1m footprints
If you would like to learn more about getting involved, please contact any one of the email addresses below for more information and make sure you visit the 1,000,000 Footprints for Africa website:
Please contact:
General inquiries should be directed to: info@onemillionfootprints.org and or info@onemoregeneration.org
African inquiries should be directed to:
Sheila 082 332 9234 or sheila@onemillionfootprints.org
Margie 083 738 4606 or margie@onemoregeneration.org
Vanessa 079 517 6517 or vanessa@onemillionfootprints.org
Australian inquiries should be directed to: Ava@onemoregeneration.org
All other inquiries both US and International should be directed to: Carter and Olivia at info@onemoregeneration.org