Rhino Documentary Trailer
After months of hard work, the producers from Red Sky Pictures (who created their own nonprofit "It's Your Planet") have launched the following video trailer to show the world what is happening to rhinos and give everyone the opportunity to get involved and help us finish the story for the world to see.  The video below is a 17 minute film covering some of the highlights from out last trip to South Africa.  The documentary is far from being completed.
RHINOS UNITED Full Version from 1moregeneration on Vimeo.
ITS YOUR PLANET is seeking help to continue production and post-production on the documentary RHINOS UNITED. Your donation would help them accomplish the following:
Production would Travel with Carter and Olivia to Vietnam and China to continue their education efforts. While in Asia, their goal is to recruit RHINO AMBASSADORS – fellow students from China and Vietnam who pledge to continue education efforts, raising awareness about the rhino poaching problem and spread the word on how to help the fight for the rhino.
Production would travel with these new RHINO AMBASSADORS to South Africa and experience rhinos in the wild. We would then follow them back to Asia and see them carry their conservation message forward in their homeland.
While in Asia, production would investigate the rhino horn trade. This would incorporate new rhino horn DNA tracking efforts being done in South Africa.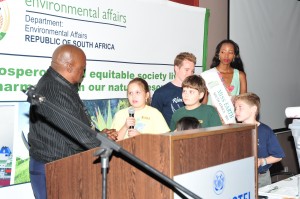 While in Africa, production would travel to Mozambique to interview families of poachers captured or killed while trying to provide for their families. We want to hear their side of the story as well.
Travel with Dallas Safari Club auction winner Corey Knowlton to Namibia on his black rhino hunt. Additionally, they want to follow the $350,000 of Mr. Knowlton's winning bid to see where it actually goes.
WITHOUT TAKING SIDES, THEY SEEK TO PRESENT PEOPLE IN THEIR OWN WORDS AND LET THE AUDIENCE DECIDE FOR THEMSELVES WHERE THEY STAND ON THE BROADER CONSERVATION DEBATE.
RHINOS UNITED is produced and directed by DGA award-winner Anthony B. Sacco of Red Sky Pictures. Dan Kavanaugh is aboard serving as director of photography, with Elizabeth Yng-Wong and Rob Henry serving as producers on this film.
If you would like to contribute to the completion of this documentary, please send us an email and we will get you started:
Thanks for watching the video and please share with everyone you know.  Please also consider sending us your comments via email to info@onemoregeneration.org