Inaugural "Our Oceans" Conference at the US State Department
Olivia and Carter were fortunate enough to have been invited to the inaugural "Our Oceans" conference held at the US State Department hosted by Secretary John Kerry.  We are so glad that we were able to contribute to the program.  Here are the welcoming comments from Secretary Kerry:
"Whether you live on the coast or hours from the closest beach, we all depend on the ocean. The ocean is critical to maintaining life on Earth, contributing to our livelihoods and our well-being. It regulates our climate and weather, it generates 50 percent of the oxygen we breathe, and it absorbs excess carbon dioxide from the atmosphere. The ocean also plays a vital role in the global economy by providing food and a source of income for millions of people. More than one billion people worldwide rely on the ocean for their primary source of protein.
The ocean is just too important to ignore. Yet, the ocean is facing significant challenges, some stemming from a lack of awareness and some from a lack of will. Some of these challenges are well known – like unsustainable fishing practices and marine pollution – and some are new to us – like ocean acidification. The good news is that there are solutions – and we know where to find them.
That is why the Department of State hosted the "Our Ocean" Conference. We brought together individuals, experts, practitioners, advocates, lawmakers, and the international ocean and foreign policy communities to gather lessons learned, share the best science, offer unique perspectives, and demonstrate effective actions. We aim to chart a way forward, working individually and together, to protect "Our Ocean."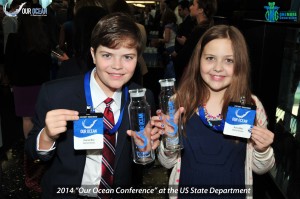 We thoroughly enjoyed the entire conference and as we left, I asked Olivia and Carter what their thoughts were on everything they just expreienced and this is what they had to say:
Could education be the key to saving our oceans?
by Olivia and Carter Ries – Founders of OneMoreGeneration.org
"Olivia" – As we attended the 'Our Oceans' conference at the State Department last week it became apparent that there are a whole lot of people and countries who care for the future of our oceans. We heard experts from around the globe weigh-in on such issues as ocean acidification, overfishing/illegal fishing and even about the issue of marine debris and plastic pollution.
We were all so excited to see the level of participation from so many countries and the sincere compassion participants demonstrated as they mapped out their plans to help our oceans. It was especially encouraging to hear how much support both financially and legislatively most participants were prepared to offer as they learned about the perils facing our oceans globally.
We heard pledges being made designed to protect even larger areas around various land masses and we were especially moved by the actor Leonardo DiCaprio as he committed an additional 7 million dollars to help create marine sanctuaries. But the one thing we did not hear… from anyone, was the word 'education'. As future leaders of the next generation, we feel that everyone is missing a key component to the solution, and that is teaching kids (our generation) about ways they can get involved. We know first hand that if you teach kids about the issue, they are all too eager to want to be part of the solution.
"Carter" – If I may elaborate a little more on what Olivia has already pointed out:
It is all fine and well to create a marine sanctuary and to seek out solutions which will ensure we are producing less carbon and creating larger no-fishing zones to allow
species the opportunity to restore themselves to safe levels, or to seek ways we can work with manufacturers to ensure that they are producing less plastics etc. But, unless you incorporate some sort of global education program designed to reach the next generation of leaders, teach them at an early age, and show them how they can be the solution to the issue of plastic pollution, what have we accomplished?
Plastic pollution will continue to find its way into our oceans and eventually into the very ocean sanctuaries being created. We are producing more plastic waste than can ever be recycled. Most people think that just because they are sending all their plastic trash to a recycle center, they are doing their part to make a difference, but the reality is that they are not.
My sister and I travel around the country and have even traveled abroad visiting recycle centers and teaching kids about what we call "precycling" and how that actually is even more important than recycling. What we would like to see is that the US and other countries take a serious look at providing an educational component to their ocean strategy.
We have already created a curriculum which was written to match the latest National Standards for science, and we have even infused math, literacy and art throughout the program. We learned about the issue of plastic pollution while helping with the animal rescue efforts during the BP Gulf oil spill, and we know first hand that if you give students the education they need on the issue, we can and will find the solution.
In closing, we wish to thank everyone for making our participation such a memorable experience, and we sincerely hope to have the opportunity to work with you and your staff on ways education can be made part of the master plan. Remember, "Anybody can make a difference… if we can, you can too."
Sincerely,
Carter and Olivia Ries – Founder of One More Generation
On a final note, we have some great news to share.  Olivia and Carter were just invited back to the State Department where they will be meeting with Under Secretary Catherine Novelli to present their Plastic and Recycling Awareness Curriculum.  We are so excited and look forward to the opportunity of sharing our program.  Our hopes are that we can find a way to bring our week long curriculum into all schools nationwide so the next generation of leaders can be prepared to help be the solution to the issue of plastic pollution.  For more information on how you can get our program into a school or community organization in your area, please check out the link below:
http://onemoregeneration.org/educational-program-info/
Here are pictures from the two day event:
State Department's inaugural Our Ocean conference – Day 1
Day 2 of the State Department's inaugural Our Ocean conference