Congratulations to OMG Board Member Julie Shimada
Since we started OMG back in 2009, we have been extremely busy and involved in numerous initiatives in an effort to make a difference.  We have received lots of awards and accolades over the years and we always hear from our fans how impressed they are at what OMG has accomplished, but one thing that most folks never see or hear about are our volunteers and board members who work so hard to make OMG what it is today.
Today one of our special board members received recognition for all of her hard work and volunteer hours within her community so we wanted to take a minute to share this great moment with you and to tell her that we too are extremely proud of all her work, and for her commitment to everything she does for us here at OMG.
Here is what the Decatur Education Foundation (DEF) had to say about Julie Shimada:
"DEF has many wonderful members of our community that volunteer their time and skills in our office or at our fundraising events throughout the year. Julie Shimada is one of those exceptional people. Last year she volunteered for every DEF fundraising event during the course of a calendar year. Because of this extraordinary commitment of time and energy, DEF is happy to name Julie Shimada the Decatur Education Foundation's 2013 Volunteer of the Year.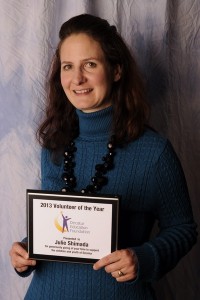 When asked why she volunteers with Decatur Education Foundation, Julie Shimada answered "I'm having fun while I'm helping out and it makes me feel like a part of my community."
In 2012, Julie decided Decatur Education Foundation was a community organization she'd like to get involved with so she signed up to help out with kids activities organized by DEF at the St. Patty's Family Fun Day hosted by Steinbecks in Oakhurst. Julie joined a small team of volunteers who helped to engage kids with face painting and other crafts. Within 3 months, she had volunteered for four additional events and the by the end of the year, Julie had volunteered for every fundraising event that DEF hosts – the Tour deCatur, the Adult Prom, the Children's Used Book Sale at the Decatur Book Sale, the Low Country Boil – as well as some special events that benefit DEF like the Tour of Homes, then she started the cycle again in 2013.
Julie was introduced to DEF when her family moved to Decatur in 2008. As her son (currently a sophomore at DHS) progressed thru the CSD schools, she really appreciated that kids of all ages benefitted, "Wherever help is needed, DEF is there.
She also likes seeing the impact of what she does, "It may seem like a small thing, what I do, but DEF needs all these volunteers to run the events. Without events, they don't have the funds to run their amazing programs."
When Julie's not making an impact through DEF, she's volunteering at other local events thru the City of Decatur and at One More Generation, an environmental non-profit. An avid reader, she also finds time to enjoy her book club".
We hope you will agree, Julie's dedication and commitment is commendable.  If you would like to leave Julie a comment, please visit her FaceBook page at the link below and thanks for supporting our entire team.