OMG Founders on the Steve Harvey Show
Carter and Olivia have been working very hard with their nonprofit since starting OMG in late 2009 and never did they expect to get a phone call like the one they got last week from the producer of the Steve Harvey TV Show.  We were actually driving from Atlanta to West Palm Beach FL where the kids were invited to be guest speakers at the Green Schools Conference where they conducted a session for the Youth Summit and then conducted a round table session with teachers from across the country.
The producer of Steve's show asked to speak to Olivia and then to Carter.  After about an hour of conversation, the producer asked the kids if they could fly out to Chicago the following week to be on the show.  She explained that Mr. Harvey has a segment called Harvey's Heroes and they think Olivia and Carter would be great for the show.  Needless to say we all said YES and none of us could believe this was actually happening.
By the time we returned late that Sunday, we had already received the details about the trip and the kids began packing their bags.  We could not afford for the entire family to go so my wife stayed home and she instead let her dad (who was visiting at the time) fly along with us.  Afterall, how often can a grandparent say they saw their grandkids on national TV?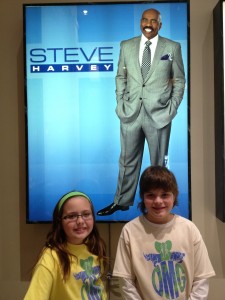 We flew into Chicago on Wednesday and arrived at the NBC Studio in downtown Chicago on Thursday afternoon.  The kids were excited because there was snow on the ground (unlike in Atlanta) and at the fact that we were about to meet Mr. Harvey.  From the moment we arrived, everyone was so professional and kind to us all.  They wisked us into the Green-Room where everyone pampered to our every request.  None of us knew how to act.  This is so far from our real world, but we played along anyway 😉
Next we were visited by various members of Mr. Harvey's team who all wanted to make sure Olivia and Carter were taken care of and not nervous.  They then came and took Olivia to the hair stylist, the make-up person and later the folks from wardrobe came and attended to her.  Carter was also not spared, he too had his hair trimmed and they even applied make up on him, (although he would never admit to it) and he too was outfitted with stylish clothes.
Olivia was nervous and at first she was not sure if she could go out on the set in front of a live audience.  Knowing that superstar Halle Berry and her co-star Morris Chestnut were just on the other side of the set and that the audience was going crazy, neither one of them knew if they could captivate the audience, or if the audience would even like what they were doing.  The producer heard Olivia's concerns and she quietly slipped out and asked Mr. Harvey if he would come and greet the kids backstage before going out and he agreed.
As Mr. Harvey approached Olivia, she became even more nervous and she pulled me in close and asked me if I could tell Mr. Harvey that she was nervous so he wouldn't be disappointed.  I smiled at her and told her that I would.  He came and introduced himself to the kids and told them how excited he was to meet them.  I gestured to him that I wanted to tell him something and he kindly stepped to the side.  I told him that Olivia was nervous and concerned that she would not do good.  He smiled at me and said, "Don't worry, I have the perfect solution."
He knelt down next to both Olivia and Carter and told them not to be nervous.  He said that he had seven kids of his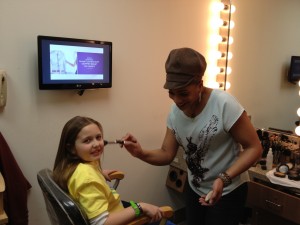 own and he has seen each one go through that stage.  He told them that even he gets nervous sometimes and he then told the kids to try his special breathing technique.  He slowly showed the kids how they should relax and breath in slowly and then slowly exhale.  He demonstrated for them and then had them do the same.  He repeated the process several times and you could visually see Olivia get her color back and begin to smile again.  Mr. Harvey then turned to Carter and told him that they need to realize that he and Olivia were the experts here today.  He told them that the entire audience doesn't know a thing about what they do at OMG and they will be clinging to their every word.  He said, they are here to see you two, not to see him and they should feel comfortable being out there and just have fun with it.
At this point the producers and camera people were approaching and telling everyone that we are on in 20 seconds and we needed to go out on stage.  Mr. Harvey knelt next to Olivia again and asked her if she was ready.  She politely looked up at him and said "yes, but can my dad sit on the couch next to me?"  At this point all the producers were looking at each other and then all eyes turned on Mr. Harvey to await his decision.  Mr. Harvey calmly turned to his team and said, "we can make that happen" and everyone sprang into action to make the adjustment.  It was amazing.  He has to have one of the most professional teams in the industry because no one got flustered and everyone calmly smiled and made sure that Olivia felt comfortable.
The rest of the show was a blur to me.  I had never planned on being on camera (as is apparent by my apparel) and I also had never been in front of a live audience for a TV show before.  I am comfortable in front of audiences but this was new territory for me.  I sat there the whole time with Olivia clutching my hand as hard as she could and enjoyed the moment.  I think you will agree that the kids did a great job and you can sincerely see the passion in their eyes for what they do.  Both Carter and Olivia became more comfortable on set as the interview went on and they both even made a few jokes.  Mr. Harvey was amazing with the kids and his team was unbelievable.  Below is the video of the show:
OMG Founders on Steve Harvey Show from 1moregeneration on Vimeo.
As the segment came to the end, Mr. Harvey surprised us with some amazing gifts.  As you can see by the look on our faces, we were not expecting any type of gifts.  When he handed the kids their "Harvey's Heroes" jackets, we were all caught off guard and so appreciative of the gesture.  Then when he continued and told us that South African Airlines agreed to fly the kids back to South Africa, we didn't know what to do.  We did not know at the time that Mr. Harvey had heard that Olivia and Carter were trying to make a trip back to South Africa so they can meet with the president of South Africa 'President Jacob Zuma' to present him with the thousands of letters they have been collecting with their Rhino Letter Writing Campaign.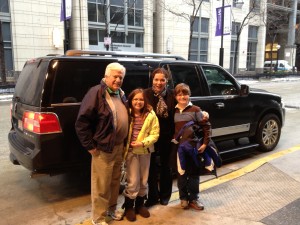 To say that we were overwhelmed at this point would be an understatement, but as you saw in the video, he was not done yet.  Mr. Harvey them proceeded to tell us that they were sending all of us to a resort in South Africa for a little R&R as their way of telling us how much they appreciated everything the kids have been doing to help save rhinos.  We couldn't believe it (and honestly up until I actually watched the show today on TV, I still didn't believe it was real).   As I mentioned at the start, we took my Father-in-law along for the trip, well he was there the whole time, standing next to the camera person, in tears as he watched his grandkids.  You can even see Olivia looking over at her 'PaPa' during the show and I remember him giving her the 'thumbs-up' which made her smile.
This has been one of the most amazing adventures we have been on since starting OMG back in 2009.  I know that the kids will cherish the experience the rest of their lives and even if they someday actually get to meet Ellen DeGeneres (whom they both desperately want to meet because of her work in Finding Nemo), they will never forget how kind Mr. Harvey and his entire team was to us all.
Here is a video they shot immediately after the taping of the show as we returned to the green room.  You can see that both the kids were speechless.  BTW, Carter loves his Harvey's Heroes jacket so much that he actually put it on that night as he jumped in bed back at the hotel:
From all of us at OMG, we wish to say THANKS again for everything and also for all the support from our friends and fans all over the world.