Every Day Should Be Earth-Day
Each year cities across the country and even overseas gear up to cerebrate Earth-Day.  Here in the greater Atlanta area, we are no different.  Each year Earth-Day is stretched out to what becomes Earth-Week and even Earth-Month as organizations attempt to engage their local community to get involved and use this opportunity to educate everyone on the many environmental issue our planet is facing everyday.
Ever since we were down in the Gulf during the BP oil spill where we first learned about Plastic Pollution, OMG founders Olivia and Carter have been doing everything they can to share their knowledge on the issue while trying to encourage others to get involved.  The first thing they did was to form a coalition of like-minded organizations who are equally as passionate about seeking a solution.  Our Plastic Awareness Coalition currently boasts over 60 local, national and even international members and the list keeps growing.
The next thing the kids did was to seek-out educators who could help them create a curriculum program which could be brought into elementary schools across the country.  We successfully launched our Plastic Awareness Week program last year and as the word gets out, we continually get schools from across the country who are interested in implementing the program for their students.
Our Plastic Awareness Week program has been so successful that we now have such impressive organizations as the United Methodist Church and the Girls Scouts of Great Atlanta looking at possibly implementing our program in their system as well.  We are also in the process of seeking grant funding which would allow us to bring our weeklong event to elementary schools nationwide.
While all of this is happening, we are also still actively working with local and national organizations on ways we can get our educational outreach programs into any and all community events across the country.  With Earth-Day being on everyones minds during the month of April, we seize every opportunity to participate in as many Earth-Day events as possible so we can try to reach every family and community to help them all realize that they too can "Be the solution to the issue of plastic pollution."
During this years Earth-Day festivities, OMG founders were invited to conduct their Environmental Education programs for visitors at nine separate events in the greater metro Atlanta area to include:
OMG Bag Monster Invades GSU Earth Day Event where students across the GSU campus came out in force to show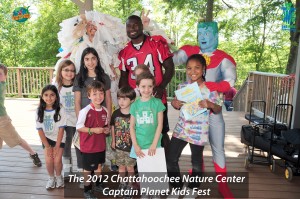 their support for the many initiatives in the community which were helping to make a difference.
10th Annual Captain Planet Kids Fest which was held at the beautiful Upper Chattahoochee Nature Center where hundreds of families showed up to learn about how they to could make simple changes at home that would have an immediate impact on our community.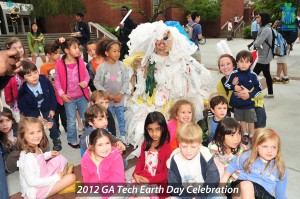 2012 GA Tech Earth Day Celebration which always brings out the best in all the students as they gather and share ideas and ways we can all adopt to help our environment.
Plastic Awareness Outreach Program which was held at the GA Aquarium and gave Olivia and Carter the opportunity to speak about the issue of Plastic Pollution and how it is choking our oceans and killing so many species each year.
Party for the Planet event at Zoo Atlanta was yet another great opportunity for OMG to reach out to our community and help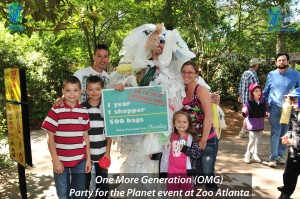 them understand the issue of Plastic Pollution and share ideas on how each family could adopt simple changes which make a tremendous difference.
EPA 2012 Earth Day Downtown Atlanta Cleanup Challenge Celebration where the OMG Bag Monster had an opportunity to get outside along with Mayor Reed and help raise awareness to the issue of Plastic Pollution.
Crossroads Second Chance School 2012 M.O.V.E. Health Fair which was designed to stimulate the minds of the students and get them involved with being the solution makers to many of the issues our community faces.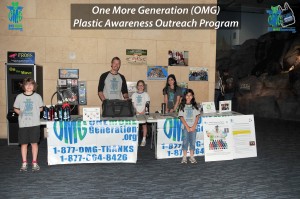 Greater Outdoors -Environmental Awareness Expo conducted by the Girl Scouts of Greater Atlanta.  Here we had the opportunity to speak with over 600 local Girl Scouts and their team leaders about ways they could all get involved.
Upper Chattahoochee Riverkeepers 2012 River Revival which allowed us to mingle with some of Atlanta's elite and more influential decision makers as they enjoyed music and friends at the Park Tavern in Atlanta.
As you can see, we stay busy this time of year.  The only unfortunate thing is that many of the events are so heavily concentrated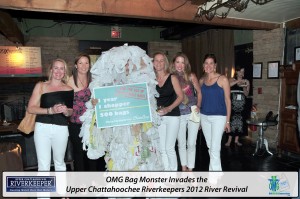 in just a few weeks of the year.  Issues like Plastic Pollution are negatively impacting our world everyday of the year and unless we can get out and touch everyone in our community, we will never get a handle on the situation.
Our goal is to bring our educational programs to every member of the community and to help everyone understand the issue and show them that "Anybody Can Make A Difference, If We Can… You Can Too.
If you are interested in having our two young founders come out to your next event, please give us a call or send us an email.  Our Plastic Awareness Week curriculum is now available for schools nationwide and our Plastic Awareness Coalition is still looking for more organizations to join our efforts of helping America 'Be the solution to the issue of plastic pollution'.
Thanks again for caring from all of us at OMG 😉