OMG Joins Girl Scouts of Greater Atlanta for their EPA Event
Recently Olivia and Carter were invited to participate along with Georgia's Environmental Protection Agency for a day of fun and indoor/outdoor activities and badge work at the 2012 Girls Scouts of Greater Atlanta EPA Day.  Participants got to choose from an abundance of fun and interesting topics around environmental awareness! Stations' topics included: water, waste, plastic pollution, pollution prevention, air pollution from vehicles, asthma, lead, women environmental champions and energy! Brownies – Cadettes had the opportunity to earn skill builder badges from their new Girl Scout program portfolio.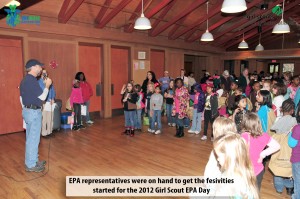 OMG contacted the Girl Scouts of Greater Atlanta several months ago because we know that they strive to provide an abundance of unique program and event opportunities and adventures for girls of all ages to fulfill their Girl Scout Mission of building girls of courage, confidence and character, who make the world a better place, just like Olivia and Carter are trying to do. Through activities that are girl-focused, and by working in partnership with adults, girls have the opportunity to learn the importance of responsibility, goal setting, teamwork, and the adventure of making a difference.
Program & Event opportunities offered to Girl Scouts fall under their national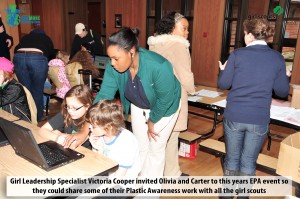 Three Keys to Leadership, and four council initiatives:
STEM (Science, Technology, Engineering, Math)
Financial Literacy
Environmental Awareness
Healthy Living
Olivia and Carter created their Plastic Awareness Week curriculum program in an effort to empower kids nationwide with a lot of the same principles.  Our program is designed to educate and empower kids to be the solution to the issue of plastic pollution.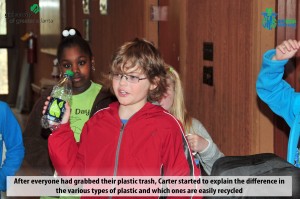 At this years EPA event, we set out to educate the girls about the need to recycle and to help them better understand what can and cannot be easily recycled in most curbside recycling programs.  We taught the girls (and their moms) how to identify the 7 types of plastic and gave them suggestions on how to find alternatives to some of the packaging types like styrofoam we encounter every day when we go shopping.
The EPA Day was filled with many exciting and educational stations for the girls to participate and learn from.  Olivia and Carter enjoyed participating in several of the stations between the various presentations they conducted and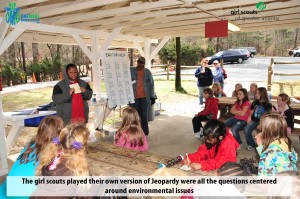 all the girls really made them both feel welcome and like they were part of the team.
The OMG Bag Monster made his usual disruptive entrance during the event but was hard pressed to find any supporters.  The girl scouts of greater Atlanta obviously have done a great job educating the girls about the need to use less plastic bags and the Bag Monster was soon sent along his way to find support elsewhere.
Here is more on the Girl Scouts of Greater Atlanta: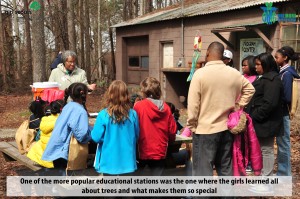 Girl Scouts of Greater Atlanta, Inc. serves approximately 41,500 girls and over 18,000 adult members in 34 counties in the greater metropolitan Atlanta area, northwest Georgia and Polk County, TN. Their administrative headquarters and a volunteer service center are located at 5601 North Allen Road in Mableton, Georgia and their service centers are located in Cumming, Dalton and Griffin GA.
The Girl Scouts mission is to build girls of courage, confidence, and character, who make the world a better place. They are the largest organization dedicated solely to girls—all girls—where, in a diverse, inclusive, accepting and nurturing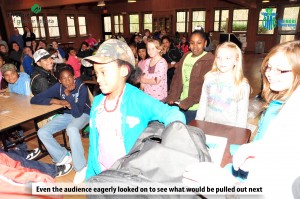 environment, girls build skills for success in the real world. In partnership with committed adult volunteers, girls develop qualities that will serve them all their lives, like leadership, strong values, social conscience, and conviction about their own potential and self-worth, much like that of what Olivia and Carter are trying to do.
If you would like to learn more about being part of the Girl Scouts of Greater Atlanta, visit their website at (GSGA Website).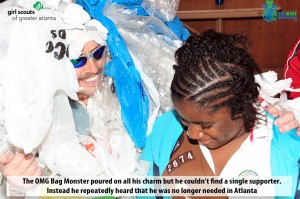 If you would like to learn more about OMG's environmental education program, our Plastic Awareness Week curriculum program, or about our Plastic Awareness Coalition, please send us an email of give us a call. OMG founders Olivia and Carter are also available for speaking engagements etc. Just let us know what you had in mind and we can customize a presentation that will help you deliver the message you are looking for in a fun and entertaining way.
You can view all the photos taken at the event by visiting our FaceBook page and please remember to hit the "Like " button if you see something you like:
As always, we wish to thank everyone for participating in this years event and we encourage you to strive to be the solution to the issue of Plastic Pollution.  Remember, "Anybody can make a difference… if we can you can too".
BTW, here is a nice testimonial the Girl Scouts of Greater Atlanta sent us after the event showing their appreciation for Olivia and Carter's hard work and dedication:
Victoria Cooper – Girl Scout Leadership Specialist OMG Testimonial:
One More Generation is an amazing organization with a dedicated heart! I am amazed by the drive and maturity of Olivia and Carter. The presentation given to Girl Scouts on March 3rd, 2012 at our annual Girl Scout EPA Day was interactive and easily relatable to girls of all ages! I believe that Girl Scouts seeing their peers take action to make a better future for themselves and the next generation is inspirational. As an organization it is our mission to build girls of courage, confidence and character, and I think Olivia and Carter definitely helped us broaden the horizons of girls on the amount of impact they can have on the world.
Best regards from the entire OMG Team 😉