2011 Youth Ocean Conservation Summit
Olivia and Carter were invited to be speakers at this years 2011 Youth Ocean Summit hosted by the 'Stow It Don't Throw It' organization.  The inaugural event was held at the Mote Marine Laboratory in beautiful Sarasota FL.
Sean Russel is the director of the 'Stow It Don't Throw It' organization which seeks to get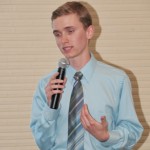 students and adults involved with ocean conservation.  They specialize in raising awareness about the harm caused by discarding used fishing line and fishing nets to marine animals and to our environment.  Sean and his family created the summit as an opportunity for students to learn how they can get involved in helping to conserve our oceans.  The summit also served as an opportunity for students to learn how they too can start their own initiative or even their organization.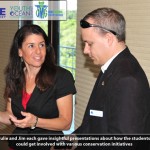 Welcoming the students were Jim Wharton (Education Vice President) for the Mote Marina and Kim Bassos-Hull (Research Associate) for the Dolphin Research Program at the Mote Marina.  The Keynote presentation was provided by Julie Scardina (Animal Ambassador) for SeaWorld/Bush Gardens.  Video remarks were also provided by Zander Srodes entitled 'The Moment It Found Me' which was a moving message about why students should grab the moment that moves them towards wanting to make a difference.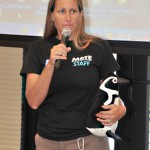 Workshops were created to help students tackle a variety of issues including fundraising, how to connect with others, learning that anybody can make a difference, how to brainstorm with others about your ideas, how to steal the spotlight, using public policy, engaging community partners, and finally, how to create video messaging.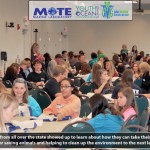 Over 100 students of varying ages attended the youth summit and it was sincerely refreshing to see how engaged and excited the students were throughout the day.  After the initial presentations the students broke out into groups and proceeded to discuss which topics were most important to them.  Collectively they then worked on narrowing it down to one topic per group and then they embarked on the process of evaluating the steps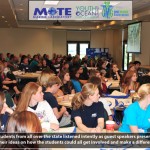 needed to bring their project to fruition.
After lunch the workshop session began and the students split up and representatives from each group attended various workshops which were designed to give them the tools needed to make their project a reality.  During the rest of the afternoon, the student groups attended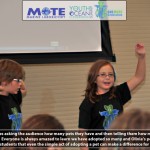 various workshops gathering as much information as possible before getting back with their respective groups to create their final 'action plan' presentation.
Next the students were allowed to present their work and the moderators and guest speakers offered suggestions and words of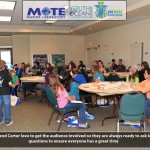 encouragement.  The level of enthusiasm from all the students was tremendous, right down to the final moments.  We wish to thank Sean and his family for hosting such a great event as well as all the moderators, volunteers, guest speakers and students for their contribution.  Sean and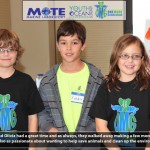 his family wrapped up the event with close comments and then treated everyone to so delicious ice cream.  This was by far one of the best youth summits we have ever participated in and we would be honored if we were invited again next year.
You can view more pictures of the event on our Facebook page.
Best regards from the entire OMG Team 😉
TESTIMONIAL:
Carter and Olivia's conservation work through One More Generation served as important inspiration to participants who attended the 2011 Youth Ocean Conservation Summit held at Mote Marine Laboratory in Sarasota, FL. The OMG team's presentation at the summit, "Anybody Can Make a Difference" resonated well with students who were excited to learn how people of all ages can take action to protect wildlife and our planet. The ideas shared by Carter, Olivia, and their parents, provided great starting points for the youth attending the summit to gain ideas for their own conservation efforts. Participants reported feeling empowered by seeing how young people can make a difference in so many areas of conservation! We look forward to working with Cater, Olivia, and One More Generation in the future!
Sean Russell
Stow It-Don't Throw It Project Director
C: (941)-468-7285
srussell92@comcast.net
stowitdontthrowitproject.org