OMG Founders Present their Environmental Program to the Vinings UMC
Olivia and Carter were recently invited to speak to the congregation of the Vinings United Methodist Church in Atlanta Georgia.  Jennifer Coffey who is a member of the church and also serves on the North GA Conference Sustainability and Environmental Committee, had arranged for our presentation to be hosted at their church.
There is one issue which is close to our families heart and one we hope you will agree needs to be brought back to our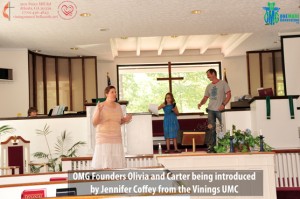 churches focus.  The issue is about our planet and all of God's creatures.  Carter and Olivia love doing these types of presentations because it helps us remind communities and congregations that we are ALL responsible for taking care of God's creations.  In fact, that is exactly why they started One More Generation, in an effort to raise awareness about the plight of endangered species and about the condition of our environment.
Our purpose is to encourage churches to focus their message to help raise awareness of what man is doing to God's creations.  Everyone at OMG is so passionate about the issue that one of our esteemed board members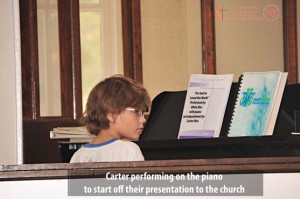 (Dr. Michael Black) even suggested we title our presentation "All God's Critters Got a Place In the Choir" to ensure our message would be heard.
As part of our presentation Carter reads from the book of Genesis to remind us of the following facts:
Fact 1 – God created the different species of plants and animals
Fact 2 – God blessed the different species of plants and animals
Fact 3 – God protected the different species
Fact 4 – God made an eternal convent with the different species of plants and animals
Genesis 1, 6, and 9.
Next Olivia and Carter introduce facts about how pollution is harming the earth, and many of the animals.  They site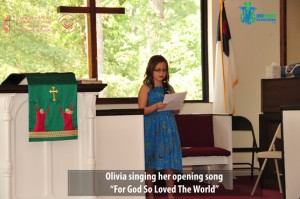 the latest statistics about Plastic Pollution and talk about the need to reach out into every community to help them understand how bad the situation has become and show them that the solution is relatively easy to correct.  The first step to becoming the solution is to educate as many people as you can.  The next step is to 'Reduce' our consumption while making every effort to 'Rethink' how these products are made and packaged and what the ultimate end result will be on our environment.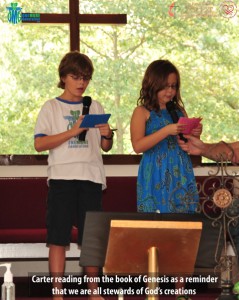 OMG has targeted single use plastic bags as our first opportunity to help clean up our environment because these bags are something that we can truly live without.  There are now entire countries which have banned the use of the single use bags because of the fact that they are so detrimental to our environment and to so many animals.  It is estimated that each year over 1-million sea birds and over 100,000 marine mammals die from ingesting plastic.
We are not blaming the plastic bags for the problem, we are merely shedding light on the fact that in America, we use about 1-million single use shopping bags every minute and that less then 10% ever truly get recycled.  The rest end up sitting in our landfills for over 500-years, or they ultimately end up in our oceans where they break down to smaller pieces and are frequently ingested by marine life, or they cause entanglement and end up killing innocent animals.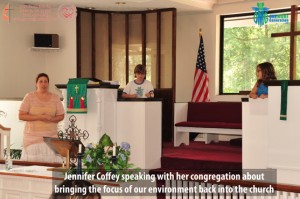 Because it is estimated that the average shopper uses over 500-single use shopping bags each year, we always make it a point to bring the OMG Bag Monster along to each presentation.  The sight of 500 plastic bags surrounding one individual is very effective and always gets folks to stop and think about their own frequency of usage.
To further ensure that we have all the facts each community needs to better understand how much of a problem plastic pollution is, we have purchased the movie rights to the award winning documentary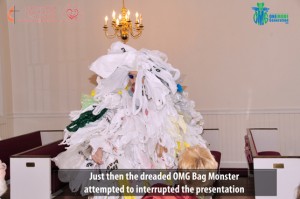 "Bag-It".  We arranged for the congregation to have the opportunity to view the movie after our presentation.  The movie covers all types of plastic pollution and the various affects it has on our environment, on animals and on humans.
After our presentation and the movie, we open the floor for some questions from the audience.  It is always exciting for us to hear the poignant questions and to see the sincere concern everyone has about how they too can start becoming the solution.
Carter and Olivia love getting a chance to explain how plastic pollution is affecting all of God's creations and reminding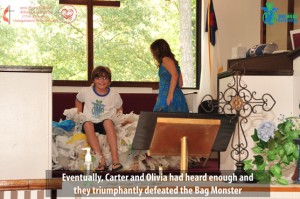 everyone that it is our responsibility to take care of what God made for us all, and how everything on the planet is here for a reason (except for the Bag Monster).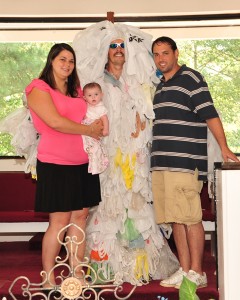 It is not our goal to try and tell communities what's right for them or that they have to ban plastic bags or impose a fee program, etc.  We are merely trying to educate everyone on the facts and give them an opportunity to realize that they too need to find a solution to our addiction to such items as single use plastic bags.  Each community needs to find a solution that works best for them, for our environment and for all God's creatures.
As always, from all of us at OMG, thanks for caring 😉
Testimonial from Jennifer Coffey:
You guys are such a blessing – what you offer a congregation is manifold. Children are able to teach US adults much – as Jesus explained:
"Then Jesus called a little child to Him, set him in the midst of them, and said, "Assuredly, I say to you, unless you are converted and become as little children, you will by no means enter the kingdom of heaven. Therefore whoever humbles himself as this little child is the greatest in the kingdom of heaven. Whoever receives one little child like this in My name receives Me.""
And what Carter and Olivia see in this world is pure and innocent. They see all of God's critters in harm's way and want to help. They did not just want to help, they are now helping! Teaching us that making a difference starts with an act! What we may think is a small act can turn into a huge movement!
Here is another comment posted on our FB page by Shirley Alcorn: One More Generation is dedicated to saving our planet and animals. This was the second time I was privileged to hear them speak and the movie is a real eye opener to what we have done to hurt the planet but what we can start today doing to make it better. Cloth bags for grocery and other shopping is a good place to start. Recycle!!!.It was a wonderful presentation. Thank you Vining UMC, for hosting it.