I Support the "Say No To Plastic Bags" Coalition
Each year an estimated 1-million sea birds and over 100,000 marine mammals die from ingesting plastic. Single use plastic bags end up in our landfills and take over 500 years to decompose. Many of these bags end up in our rivers and streams, which ultimately lead to our oceans.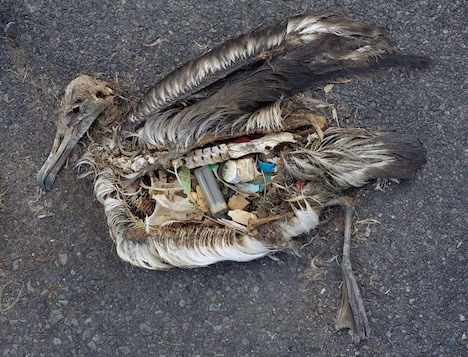 Sea Birds and Sea Turtles mistake these bags floating in our oceans as jellyfish and they eat them. The bags block the digestive system preventing the animal from eating so they literally starve to death.
OMG founders just launched our "Plastic Awareness" Coalition in Georgia so we can fight for a solution in our communities and our state. So far we have attracted the support of the following organizations:
We just partnered with the ISFoundation (Ian Somerhalder, you may all know him from his role in Lost, or more recently, his role as Damon Salvatore in the CW Hit Vampire Diaries) so we can raise awareness to the problem plastic bags are causing to our environment and to endangered species. http://generationextinction.com/
Here is a list of the various key organizations who have also joined our "Say No To Plastic Bags" Coalition: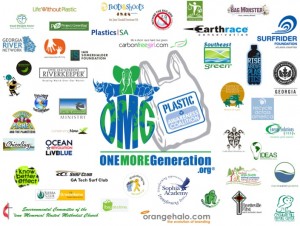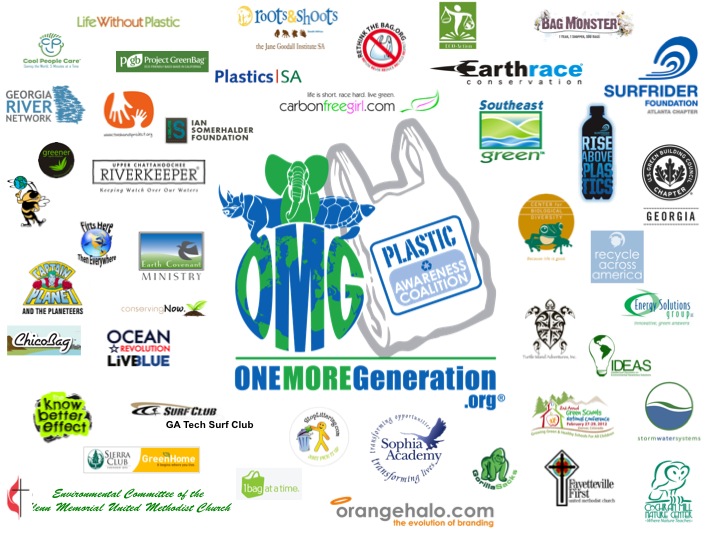 GA Tech Surf Club, Atlanta Chapter of the Surfrider Foundation, Glenn Memorial United Methodist Church Environmental Committee, Atlanta, Center for Biological Diversity, Chico Bags and the Bag Monster, Orange Halo Atlanta, ConservingNow, Cochran Mill Nature Center, ISFoundation / Defenders & Warriors 2011, US Green Building Council – Georgia Chapter, GEORGIA TECH THINK GREEN WEEK 2011, Ocean Revolution / LiveBlue, Cool People Care, Upper Chattahoochee Riverkeepers, Sierra Club / GreenHome, Earth Covenant Ministry, Fayetteville First United Methodist Church, 1 BAG AT A TIME, IDEAS (Intellectual Decisions on Environmental Awareness Solutions), Project GreenBags, Southeast Green, Storm Water Systems, Inc., Earthrace Conservation, TwoHandsProject, Greener Upon Thames, Turtle Island Adventures Inc., The Know Better Effect, Surfrider Foundation Rise Above Plastics and many more…
Did you know: The average shopper uses over 500 single use shopping bags each year. That equates out to over 1-million single use shopping bags being used in America every minute. Less than 5% of the single use plastic bags ever get recycled. Recycling centers who attempt to recycle the bags end up spending an ungodly amount of money paying workers to continuously unclog the machines. The highest cost in workers compensation claims comes from injuries to workers un-clogging the machines.
We produce/consume more bags than we could ever recycle. Our only solution is to stop using the bags and consider a complete Plastic Bag Ban or fee program like many countries are already doing.
As we grow in coalition members, we plan on organizing via assistance from our members so we can eventually seek legislative support on creating a program, which will best fit our greater Atlanta communities in reducing our plastic consumption. We are progressing via the following steps:
Step 1. – Engaging the public:
Step 2. – Forming Connections:
Step 3. – Working with Local Council Members:
Check out this cool video which says it all: