OMG Founders Launch "Plastic Awareness Week" in School
In an effort to educate their fellow classmates about the harm of plastics on our environment and to many of our animals, Carter and Olivia partnered with the great folks at ConservingNow to create awareness of the amount of Plastic we all use in our daily lives.  Their Plastic Awareness Week tasks all students and families to bring in their plastic trash every day to school.  The plastic trash will be collected in a trailer located in the front of the school during the week so each child can watch and see the quick accumulation of plastic trash their small school amasses.
Their goal is to provide an opportunity for their classmates and their families to see first hand, how much plastic trash everyone accumulates on a daily basis.
Each day the teachers will discuss the items that we all bring in and help the students understand the impact plastic trash has on our environment. At the end of the week, we (One More Generation) will be bringing in a guest speaker to discuss what the kids have learned and then we will ask the entire school to help us create some sort of art sculpture or message with the trash so that it can be shared with schools all across the country.
We ask that all families join us on Friday March 25th from 1:00PM until 2:45PM as we gather all students together over in the Gym facility to review what the students have learned during the week and to help the kids create an art sculpture or message with the collected plastic trash. We have also invited a very special guest, which the kids are sure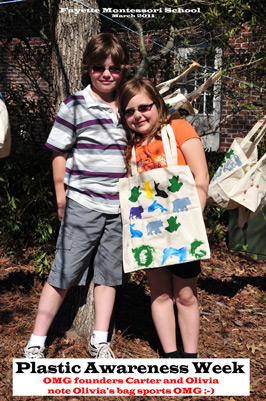 to enjoy. (All collected trash will ultimately be turned over to our local recycling center).
One More Generation provided Educational Kits for all the classrooms and materials for each student, which are specifically designed to help each student better understand the curriculum. OMG will also be sending home free car window static clings to put on the window of your car to help you remember to bring your reusable bags into the store, which were part of the kits we purchased from ConservingNow.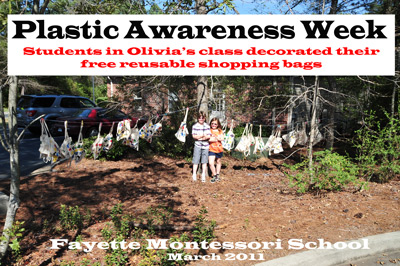 Each child will also be working on filling in his/her calendar (included in the kit) for the month. Every time they remember to remind a family member to use a reusable bag rather than a plastic bag, they get a star. At the end of the month, they will bring their calendar back to school for posting along with other classmates.
The kits also included free canvas reusable shopping bags for each student in the school and a large reusable shopping bag for each teacher.  During the week the students will be given an opportunity to decorate their own bag so they will be more likely to remember to bring their bag with them next time they go shopping.
We had a great start to our week long program today with plenty of families bringing in their plastic bags and other trash.  We hope to fill the trailer by weeks end so we can have plenty of items to use for our very special art sculpture project.  Stay tuned for more on how our little school progresses with this program.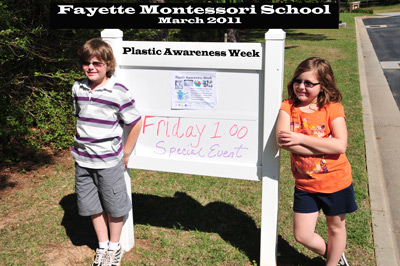 If you are interested in finding out how you can get this program for your school, send us an email and we will be glad to get you set up.
Thanks for caring and for all your support.  Best regards from the entire OMG Team 😉