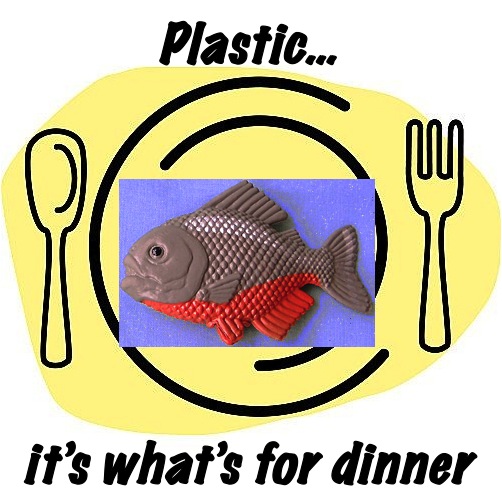 Here is another news report showing how plastic trash is ending up in our homes and on our dinner plates:
You too can make a difference and dramatically help reduce the amount of plastic which ends up in our oceans and in our food supply by simply making a stand and trying to get your family off of the dependency we all have to single-use plastic bags.
Here is another informative video done by actor Edward Norton about the harm plastic bags place on our environment:
If you have kids, you can make it a fun project by taking them to buy Re-Usable shopping bags and having them keep count of every Re-Usable bag you use.  It is estimated that each Re-Usable shopping bag is equivalent to at least 8-single use plastic bags.  The kids will love counting up the bags used for the week and them multiplying that number by 8.  They will be amazed how many bags they helped keep out of our environment and away from our food supply.  We came up with 200 plastic bags saved since starting this in our household a few weeks ago.
Here our founders even had fun with the project as they made a short skit about this serious issue.  You can see they obviously had fun with this and the best part is that they truly understand that their actions ARE making a difference.
Here are a couple of great videos from Animal Planet which show your kids about animals needing us all to say no to Plastic Bags:
We will post more from time to time as we get ready to launch our Plastic Bag Ban initiative in our community/state.  We are meeting with the Mayor of Athens GA next week to get some tips from them on what has worked so far from them and we have already scheduled conference calls with various other communities across the country who have already taken that first step towards Banning Single-Use Plastic Bags.  We plan on requesting meetings with our own Mayor for later this month.
We have partnered with the folks at "Bag-It" who produced an award winning educational film about the impact plastic has on all our lives and we will be scheduling community-wide viewings so we can help make everyone aware of the seriousness of the issue.  You can view the trailer to this movie here from our earlier post on plastic:  Got Plastic?
Finally, here is a very well made video which shows that the Plastic Bag Ban is something being supported by many well known names:
If you are interested in helping, drop us a line and we will gladly discuss what you can do to help.  Thanks again for supporting us and for caring enough to want to make a difference.
Best regards from the entire OMG Team