OMG Wins Grand Prize in Nestles Heroes Contest
OMG Founders Carter and Olivia recently won the Grand Prize in a Nestles Ice Cream Heroes contest.  Their organization was entered in the nationwide contest that featured kids making a difference.  The Grand Prize was a free Ice Cream Party for them and up to 50 of their friends.  Upon learning they won the prize, Carter and Olivia immediately asked if they could have the party at their school (Fayette Montessori) so they could share the prize with all their friends.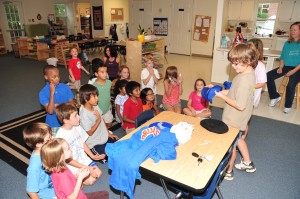 "Without the support of our friends at school and the support from the faculty, we probably would not be were we are today" explained Carter.  After-all, it was our school who last May allowed us to host our first official OMG Day where we had so many difference agencies assist us in creating awareness to what we do.
The Nestles Drumstick Heroes Ice Cream party was held on Friday and all the students from both the Lower Elementary and Upper Elementary classes participated in the event.  Nestles sent several party gifts along with the free Nestles Drumstick Ice Cream.
Carter and Olivia wanted to share all the prizes with everyone so they came up with a questionnaire consisting of 8 questions about endangered species.  Everyone who filled out the questions had their name entered in a hat and they drew names to find out who the winners were of the various items.  "Making up the questions was fun and it gave everyone an opportunity to learn something important about endangered species" said Olivia.
We wish to thank the folks at Nestles for giving kids all over the country such an incredible opportunity to showcase their passion and for rewarding them with such a great tasting prize 😉  Everyone had a great time at the event and we look forward to sharing more with our classmates in the future.
Thanks again to Nestles, to our friends, and the staff at Fayette Montessori.  I know of nowhere else that kids can go to school, get a great education, and be supported the way our organization has been supported here.
Best Regards from the entire OMG Team 😉