Gulf Coast Supply Collection Program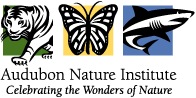 Well, it's finally here.  After months of planning and coordinating, we are finally ready to head down to Louisiana to deliver the badly needed supplies to support the courageous efforts of the men and women who are working so hard to help save the oiled seabirds, turtles, and other animals who have been caught up in the tragic oil spill.
The latest counts of effected animals are as follows;
Consolidated Fish and Wildlife Collection Report
Last Updated August 25, 2010

Dead Mammals: 80
Oiled but alive: 8
Cleaned and released: 3
Dead Birds: 5,007
Oiled but alive: 2,008
Cleaned and released: 997

Dead Sea Turtles: 546
Oiled but alive: 519
Cleaned and released: 162
Relocated nests: 278
Note: These are the consolidated numbers of collected fish and wildlife that have been reported to the Unified Area Command from the U.S. Fish and Wildlife Service (USFWS), National Oceanic and Atmospheric Administration (NOAA), incident area commands, rehabilitation centers and other authorized sources operating within the Deepwater Horizon/BP incident impact area.
When Carter and Olivia saw the first images of the oiled seabirds, they both were deeply moved.  Without hesitation, they both started asking how we could help.  We got on the phone and started talking to several of the larger agencies responsible for saving the animals.  Each one was very appreciative of our offer to help and several of them supplied us with a list of the items they needed the most.
Armed with the list, we all began calling major retailers asking if they would support our efforts by allowing us to set up Collection Centers at their locations so customers could have a drop-off area to donate some of the needed supplies.  After days of getting the typical (yet in some cases understandable) answer of how our mission did not align with their corporate values etc, etc…, we finally shifted our efforts to a more local approach.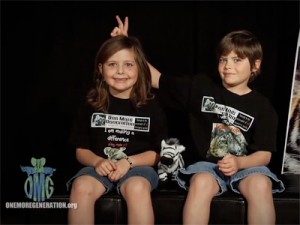 Surprisingly, the kids were not discouraged, instead they helped by picking up the phone and calling local Churches and set up face to face meetings with various Pastors and Youth Group Directors in an effort to rally their congregations for support.  Fortunately, we had several churches who were able to allow us to coordinate our Supply Collection Program and after several weeks, we started receiving some of the supplies.  (OMG sends a special Thank You Shout-Out to the folks from the Fayetteville First United Methodist Church and to the folks at the South-Side Church in Peachtree City.  Also to the kind supporters from the Cochran Mill Nature Center who reached out to all their members and solicited support for our program as well. ;-))
As we started getting closer to the planned delivery date, we started getting emails and VM's advising us that the Command Center had taken control of all Animal Rescue operations and that none of the agencies we had been working with were authorized to accept our collected supplies.  Since BP had agreed to pay for all the rescue and clean-up expenses, the Command Center decided to turn away all forms of help and opted to basically go out and just buy whatever they needed and then send the bill to BP (to that we say… Good Luck).
The Command Center even went as far as to call us and advise us not to drive to the region and attempt to deliver the supplies since our help was not wanted nor needed (I will refrain from further comment at this time).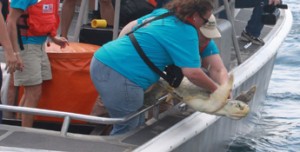 Anyway, when I told Carter what was happening, he said "Dad, there has to be a way we can get the supplies to someone who cares enough about the animals and who could sincerely use the supplies" .  He then asked if he would be allowed to call a few agencies and see if he could find a home.  (Neither one of these guys take NO lightly when it comes to trying to complete what they have set their minds to.)
After days of more phone calls and what seemed like endless dead-ends, Carter finaly suggested we reach out to our good friends at the Atlanta Zoo and see if by chance they knew someone in the Gulf who could help us out.  So that is what we did.  We reached out to Dr. Brad Lock (Reptile Curator at Zoo Atlanta) and sure enough, he said I know just the person.  He directed us to Dr. Bob MacLean from the Audubon Zoo in New Orleans who was surprised by our offer but stated that they have been diligently working to save countless Sea Turtles and other animals which were covered in oil since this whole mess started.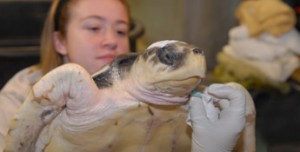 He put us in touch with Meghan Calhoun who heads up theThe Louisiana Marine Mammal and Sea Turtle Rescue Program for the Audubon Zoo/Aquarium in New Orleans.  Meghan was an absolute pleasure to work with, not only did they agree to take the supplies, it turns out they actually needed what we had collected.  (Goes to show you that hard work and diligence pays off.  What a great life experience this is for the kids.)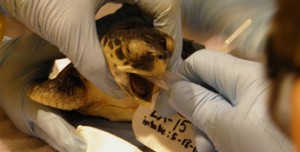 Anyway, so now that we have a good home for all the generous supplies donated by our community, we are finally ready to make our big trip.  We are leaving on Monday (Aug 30th which happens to be Olivia's 8th Birthday) and driving the supplies down to New Orleans.  We will be staying at the Hilton Garden Inn (Convention Center) which is being provided as a donation to OMG from the General Manager Mr. Tony Welch.  Thank You, Thank You, Thank You 😉
We tried arranging a rental car with several of the national car rental agencies and even tried to get a few donated gas cards from BP but to no avail ;-(
We are extremely excited about the upcoming trip and to finally see all our hard work and efforts go to good use.
Here is a video about the Audubon Institute Aquatic Center and the amazing work they do;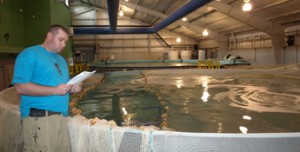 Audubon Institute Aquatic Center
We will post more from our trip when we return and we wish to thank everyone who helped make this possible, a sincere THANK YOU!!!