OMG Joins Zoo Atlanta Program
OMG, or One More Generation, founded by Fayetteville's Carter and Olivia Ries, took part in the Saturday for Snakes program at Zoo Atlanta.  The activities took place Saturday July 31 from 10 a.m. to 2 p.m.  OMG was among the snake experts and snake conservation groups in celebration of these remarkable vertebrates.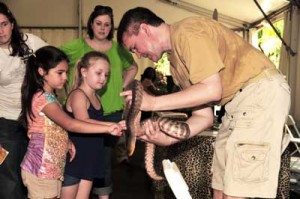 OMG talked about rattlesnake round-ups, where snakes are captured and killed for public entertainment. They also collected more signatures on a petition to help stop the roundups.  So far these two dynamic up and coming conservationists have collected close to 1,100 signatures in support of their efforts.
OMG also had information on its other conservation efforts; to include the Gulf Coast Animal Rescue Supply Collection Program they are doing with local churches where they are collecting badly needed supplies for the animal rescue efforts in the Gulf.  The two will be driving (actually their parents will be driving 😉 ) to the Gulf region in late Aug to deliver the supplies and to get a first hand look at the devastation caused by the oil spill.  OMG will be accompanied by an international film crew who will be doing a story on the effects the Gulf Oil Spill has had on children and how this has caused them to try and make a difference.  More details will be published on a later post.
Jason Clark from the Southeastern Reptile Rescue was also on hand with "The Reptile Wagon," a trailer that is home to a collection of native reptiles such as gopher tortoises, alligators, and venomous and non-venomous snakes which was open for visitors to explore.  Project Orianne shared its important work with protecting one of Georgia's most beautiful snakes, the eastern indigo snake, and how Zoo Atlanta is helping.  Zoo Atlanta also had snake-related games and activities to round of the day of fun.
OMG founders also tested the guests on their Reptile I.Q., a game developed by them which had most adults stumped and most kids smiling.
Two special presentations were also presented. The first by world-renowned snake expert Dr. Bruce Means, President of the Coastal Plains Institute and Land Conservancy.  Dr. Means did a phenomenal job presenting his work with protecting eastern diamondback rattlesnakes. You can learn more about the exceptional work Dr. Means is doing by visiting his website at; http://www.brucemeans.com/index.htm
The second by David Brothers, Zoo Atlanta herpetologist, also shared general snake biology and conservation.  For more information visit www.zooatlanta.org.
Special thanks to Dr. Brad Lock DVM; Dipl. ACZM (Assistant Curator of Herpetology) and his entire team for making the day a huge success.  We also wish to thank Dr. Bruce Means for the valuable information he shared with all the guests.  His insight and expertise made the day extremely worthwhile.