Endangered Bees in the UK
Jan-15-2011 – Update to original post from Jul-28-2010:
We just came across this article which also has a petition we think everyone should consider supporting.
For the past several years scientists have been alarmed by the mysterious collapse of bee populations worldwide. Known as "Colony Collapse Disorder", massive bee die-offs discovered by beekeepers has resulted in the loss of as much as 30% of the commercial honeybee population in the U.S. since 2006.
Last month a leaked EPA memo uncovered proof that the U.S. government approved a pesticide toxic to bees based on "fatally flawed" science and they have no intention of banning it even though it is harming the U.S. bee population. Incredibly, beekeepers and scientists around the world are pointing to Bayer's clothianidin as a leading factor in colony collapse and 4 European countries have already banned it. Join us in telling the EPA to immediately ban the sale and use of clothianidin until proper tests can be conducted.
Save the Bees, Tell the EPA to ban Bayer's toxic pesticide clothianidin
Original post:
Hi everyone, this is Olivia.  My dad just showed us this article, which makes us concerned.  We will start researching more about endangered insects in the US in the coming weeks for our Bug-Out event which we have been asked to host at the Fernbank Museum.  In the meantime, we hope you enjoy this piece 😉
UK launches £10m research project to stop insect decline
Posted by Graham Land in Science & Technology, Wildlife & Flora, 24 Jun 2010,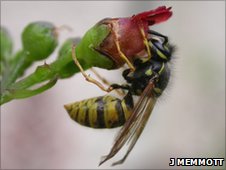 photo by mommamia (source: Flickr Creative Commons)
Due to concerns over the rapid decline in the population of Britain's insect pollinators in recent years, a research program was launched on Tuesday, allotting £10m (€12m) to the discovery of why bees and other insects are dying off.
If all insect pollinators in the UK became extinct, it would cost the national economy £440m (€534m) per year. And although honeybees get most of the attention, they are just one of Britain's many crucial pollinator insect species.
From an article in the Guardian:
According to the Centre for Ecology and Hydrology, three of the 25 British species of bumblebees are already extinct and half of the remainder have shown serious declines, often up to 70%, since around the 1970s. In addition, around 75% of all butterfly species in the UK have been shown to be in decline. The new £10m Insect Pollinators Initiative (IPI), the largest program to date of its kind, will look at the multiple reasons thought to be behind this devastation in insect population.
One reason for the honeybees decline could be that pesticides are interfering with the navigational functions in the brains of bees, preventing them from finding their way back to their hives. Unfortunately, some researchers claim that too little is known about both the causes for the decline of pollinators and about how much each species of insect contributes to pollination.
From an article in the Telegraph:
One of the amazing things is that we don't know how important the different species are. Some studies say that honeybees contribute 10 per cent, some say more. We know that bumblebees are very important, as are hoverflies. There are more than 20 species of bumblebee in Britain, and several of them are causing concern. Three are already extinct. Some species are doing OK, and we don't understand what's making the difference.
–Professor Andrew Watkinson, director of the Living with Environmental Change program
On the other hand, some believe that scientists already know very much indeed about the decline of bumblebees and honeybees, due to extensive research in other countries. Not surprisingly, pesticides and loss of wildflowers are being blamed as the culprits. Yet any concerted action to change the industrial farming practices that are deemed responsible would surely face fierce opposition from the agriculture and pesticide lobbies.
For more on this perspective, see Allison Benjamin's piece 'Action – not research – is needed to save our pollinators' in the Guardian.
by Graham Land