Rattlesnake Roundups
Post Update Dec-2010:
Carter and Olivia recently met with the GA DNR (Department of Natural Resources) along with local members of the P.A.L.S. organization, in an effort to seek support from the DNR to help convince the organizers of the local roundups to change their venue from a roundup, to a festival which celebrates the species, as opposed to eradicating them.  Here is a picture from that meeting: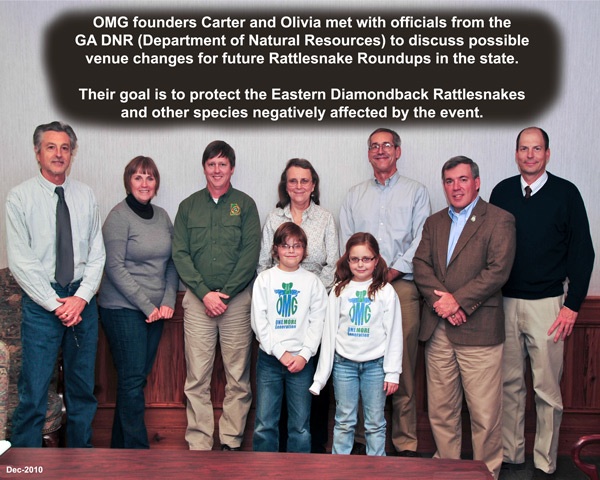 "Rattlesnake Roundups" are contests calling for hunters to bring in as many snakes as they can catch in a year, at which point the snakes are slaughtered and sold for skin and meat. Seven states still host these killing contests: Alabama, Georgia, Kansas, New Mexico, Oklahoma, Pennsylvania, and Texas.
Roundups are driving some species of rattlesnakes toward extinction. A recent study analyzing 50 years of roundup data found eastern diamondback rattlesnakes in sharp decline due to roundup pressure and habitat loss. Rattlesnakes play a key role in the food web, especially in terms of rodent control.
And roundups are harmful to many species, not just rattlesnakes. To catch snakes for the event, hunters spray gasoline into tortoise burrows, destroying the burrows and often killing the animals inside. More than 350 species depend on tortoise burrows for food and shelter. Roundup organizers claim that hunters no longer use gassing to catch snakes, but in January 2010, wildlife officials in Georgia apprehended four men who had gassed 50 tortoise burrows to collect snakes for the rattlesnake roundup in Whigham.
Although roundup organizers claim that the events provide environmental education, no meaningful wildlife education — emphasizing the importance of saving native species — is provided. Handling venomous snakes in front of the public and then killing the snakes is the opposite of wildlife education.
Nor do roundups protect public health. Roundup sponsors like to claim that the purpose of the events is to extract venom for medical purposes, but producers of rattlesnake antivenin have stated that venom from roundups is unusable and that they don't purchase it. There are many more annual fatalities in the United States from dog bites, lightning strikes, and bee stings than from venomous snake bites. And in fact, the majority of snake bites occur when humans try to capture or kill snakes — so rattlesnake roundups themselves endanger public health by encouraging the public to do just that.
Finally, roundups are far from necessary to generate community revenue. Many communities that used to hold roundups have successfully changed the focus of their revenue-generating annual events. For example, San Antonio, Florida transformed its roundup into a Rattlesnake Festival, which includes no collection contest or snake killings. And the town of Fitzgerald, Georgia replaced its roundup with a Wild Chicken Festival, which organizers say has been an enormous success.
OMG is working with The Center for Biological Diversity to help protect rattlesnakes, gopher tortoises, and the 350 other wildlife species that are harmed by rattlesnake roundups. In early 2010, we asked Georgia Governor Sonny Perdue to outlaw roundups throughout the state, as well as requesting that Georgia's attorney general investigate the gassing and destruction of tortoise burrows for rattlesnake roundups.
"Roundups are senseless killing contests that need to be outlawed, but current Georgia state law which specifically exempts venomous snakes from any legal protection. Please contact Georgia Governor Sonny Perdue and your state senator and representative and ask them to amend state law and make rattlesnake roundups illegal.
To have the most impact, mail a letter to Governor Real at 203 State Capitol, Atlanta, GA 30334. Alternatively, send Governor Real an email through this form on his Web site: http://gov.georgia.gov/00/gov/contact_us/0,2657,78006749_94820188,00.html
Please also mail a letter to your state senator and representative asking them to amend state law to ban roundups. You can find your state elected officials and their contact information through this site: http://www.congress.org/congressorg/state/main/?state=GA
A sample letter is below. For more information, contact jim.ries@onemoregeneration.org.  Later this year once the legislature is back in session; OMG will do a new alert asking folks to ask their reps to introduce the bill banning roundups.  We are also working with the legal department of The Center for Biological Diversity to introduce new legislative language which would better protect the Rattlesnakes and hopefully end the roundups.
Here is a Sample letter.  Click on the link and print the PDF letter.  Then just sign and mail accordingly.
http://onemoregeneration.org/wp-content/uploads/2010/07/Rattlesnake-Roundup-Letter.pdf
UPDATE Nov 23, 2010  (Watch this Video without your children present)