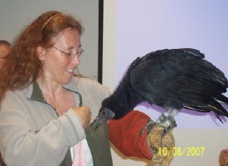 Eva brings over a decade of interpretive experience with regard to conservation issues affecting wild birds both in the United States and Southern Africa. Her knowledge of industries and social trends affecting birds has enabled her to effectively advocate for wildlife, especially birds, for over 10 years.
Eva holds an instructional design degree and is a Master Naturalist. She combines these skills to create environmental and ecology learning and educational programs, particularly for avian-related topics, is her focus area. She also engages in meta-analysis of current research on avian-related topics to advocate for the conservation of wild bird populations.
Service to the conservation community includes interpretive and instructional projects and advocacy for the Virginia Department of Conservation and Recreation's Pocahontas State Park, the Richmond Audubon Society, The Smithsonian Marine Ecosystems Exhibit, and the St. Lucie County Cooperative Extension.
She resides in the Treasure Coast area of Florida.