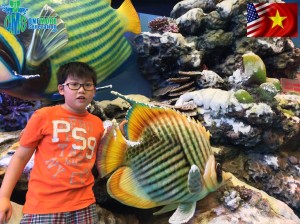 My name is Han Duc Minh (my American friends call me Ming). I was born in 06/27/2009 in Hanoi, the Capital of Vietnam. I'm currently in grade 4. My major strengths are in mathematics, music and painting. I started learning piano and drawing since I was 4. Music and art has become a path for me to express my ideas and my love for nature. Some of my drawings and painting about my hopes for the future world and wildlife conservation have earned me a number of awards from my school and city contests such as Toyota Dream Car, Vietnam Airlines Flying Dreams. I'm also an enthusiastic collaborator for my school monthly magazine. I like to draw pictures and posters for the school magazine to raise environmental awareness among my peers. I believe that no matter how old you are, one person can make a difference for the world to become a safer and greener place. It can start with very simple things like planting a tree in your garden or taking good care of your pets.
I had a chance to meet with the OMG team and spent a lot of time talking with Carter and Olivia about their "Save the Rhino" Project in Vietnam as well as other wildlife conservation projects that they are working on. They really inspired me through their commitment, passion and knowledge of our environment. They helped me to understand that it's the belief in myself that will keep me working towards my dreams of becoming a civil engineer, designing environment friendly automobiles or a biologist studying about marine biology and ocean science.
I'm so looking forward to be part of the OMG family to learn and share our enthusiasm to solve the environmental problems around the world.